This year we had another great EMEA Atmosphere 2017 event with almost 1700 visitors! Partners, customers and colleagues got the latest updates on our Intelligent Edge Solutions talking about Cloud, Mobile and IoT in the keynotes and hundreds of technical breakout sessions. New this year was our Vertical Innovation Zones, where visitors could see the Aruba solutions in action and how we create value around our Intelligent Edge approach. Customers could really see how our solutions work together with partner integrations to create value to their business. The setup really changed the conversation with the visitors as they could get new ideas and use cases on how technology could benefit their organisation.
See a quick introduction of the Healthcare Innovation Zone.
If you were not able to join Atmosphere, let me summarise the Healthcare and Education zones solutions:
Healthcare: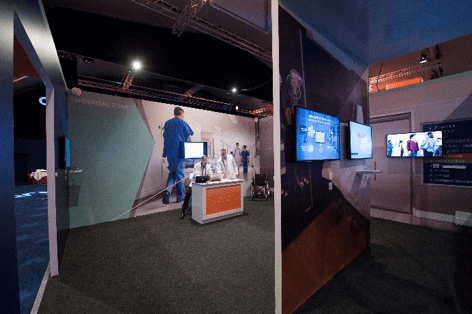 With the perfect storm of cloud, mobile and IoT in healthcare, network administrators are put to the ultimate test to support literally thousands of people, personal and medical devices. New technologies and innovations are not necessarily introduced by IT but by other lines of business, innovations that need a network infrastructure to support this. In our Healthcare Innovation Zone, we let the visitors experience the following:
Patient Logistics & Patient Satisfaction
Patient experience is a high priority for healthcare institutes. By leveraging location-based services, Aruba is capable of improving patient logistics for medical appointments. Patients are easily guided through the hospital with wayfinding capabilities, automated registration with micro-location service and provided up to date information about the appointments like waiting times. Using our open Meridian platform and SDK integration with our solution partner LogisP we let patient experience their appointment from home to the doctor's office. Next, to the patient experience, we also demonstrated the doctor's point of view on how he is kept informed where the patient is located inside the hospital, enabling him to call in patients while they are sitting in the waiting room and get feedback on the treatment when patients leave the hospital. Check the document attached at the bottom of this page for more details about the solution used.
Security using Multi-Factor Authentication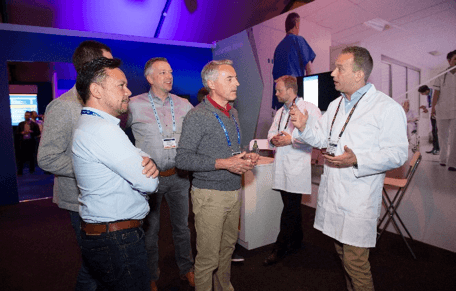 An area of concern is the ease in which hackers have stolen username and password credentials in order to compromise medical records. Still, employees need to access multiple systems that require a username and password. To Protect medical records and help doctors easily access this information we use biometric security. We demonstrated the power of ClearPass and used a 3rd party MFA vendor to provide biometric access. Check the document attached at the bottom of this page for more details about the solution used.
Securing mobile devices with Mobile Device Management
Devices connected to the network need to be compliant with hospital policies. Doctors might bring their own devices to the hospital that have applications installed that are not allowed. Delivering the right security tools helps users stay compliant and increases the hospital security standards. Check the document attached at the bottom of this page for more details about the solution used.
Secure IOT in Healthcare:
Hospitals have many medical devices connected. These devices are introduced and managed by BioMed or Clinical Engineering and not the IT department.  An average hospital room has around 25 devices connected. Using Aruba Universal Profiler helps healthcare organisations understand what is on their network. Check the document attached at the bottom of this page for more details about the solution used.
Asset Tracking / Inventory Management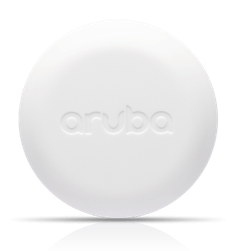 Using mobile apps to find things or people is now a common user behaviour. In healthcare, asset tracking improves clinical efficiency by locating equipment when it is needed. Healthcare organisations also need to easily locate medical equipment for service and audit. There are different technologies for different use cases to find assets; using the WiFi Network, Ultra Sonic, RFID, etc. Another emerging technology used for location service is Bluetooth Low Energy (BLE) which is part of the Meridian proposition. By leveraging the Aruba Wi-Fi Access Points with integrated BLE beacons we can locate Aruba tags with an accuracy of 1 to 2 meters. Combine BLE asset tracking with blue dot wayfinding, find-a-friend, proximity notifications, flexible SDK and rich centralised management features you have a Swiss-army knife for multiple use cases!
Top 3 benefits:
Mobile first wireless deployment provides coverage needed for asset tracking
Staff mobility improves efficiency, customer experience and bottom line
Built-in flexibility allows for easy expansion or third-party integration 
Go to the Aruba Asset Tracking landing page to learn more
These are just some examples we demonstrated live during Atmosphere for the Healthcare Innovation Zone. If you want to discuss these possibilities for your organisation or find out what more is possible from Aruba, please let me know or reach out to your local healthcare team.
Also, make sure to check the Healthcare solution page.
If you would like to know how we setup the Vertical Innovation Zone for Education, please read the blog here.