In honor of Earth Day 2018, we thought we'd take a look at just a few of the ways Aruba's technology is helping support the wellbeing of our planet. Although we had many options to choose from, here's a sampling of how customers like you are using their infrastructure to help take environmentalism to new heights.
Falcons Take Flight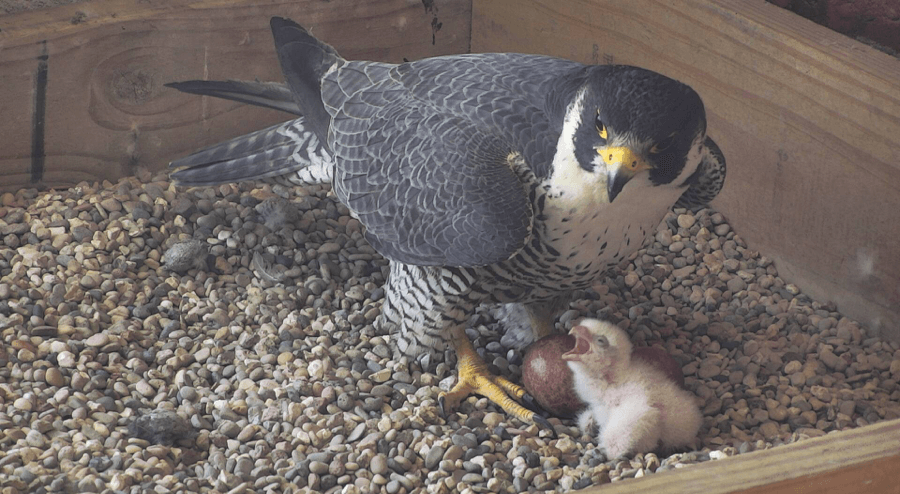 A hundred feet above a bustling downtown street, and steps away from the Mississippi River, a pair of peregrine falcons is giving us all a glimpse into the triumphs and perils of rearing their young.
Often called the fastest birds on the planet, peregrines are coming back from the brink of extinction in the U.S. This pair's precarious nesting site on a ledge atop the Dubuque County Courthouse in Dubuque, Iowa, helps demonstrate one reason repopulating the species is so difficult.
"Peregrines don't build nests," explains Nathan Gilmore, IT Superintendent for the county. "Instead, they scrape off a cliff ledge or, in the case of our building, attempt to do so. As there was nothing to hold the eggs the first year, they simply blew off. It was tragic."
Subsequently, the county's conservation staff built a box and affixed it to the ledge, which is now doing the trick. The Falcons have successfully laid several eggs two years in a row. "Last year, only one of the three eggs hatched," says Gilmore. "This year, we're hoping for more as the young adults are more experienced parents."
To keep an eye on the birds and let the public in on the action, Gilmore's team has focused an Axis Communications security camera hooked to an Aruba 2930M switch on the site. "We invested in the modular 2930M for its redundancy, flexibility and scalability," says Gilmore. "Although we're using 4K cameras presently, 8K, 12K and 16K are coming. As we deploy higher resolution options, we can upgrade the 2930M in about 10 minutes, completely avoiding disruption to our enterprise."
Even with 4K Gilmore's team can stream stunning live falcon cam video via YouTube as well as capturing stills to accompany their daily falcon blog, which includes educational content. "As soon as the egg hatched last year, live stream viewership skyrocketed," Gilmore says.
"We know people of all ages are interested in our falcons," he adds. "The falcon cam is critical for engaging our community and providing lessons in the importance of having an ecosystem healthy enough to support an apex predator."
Marine Wonders Revealed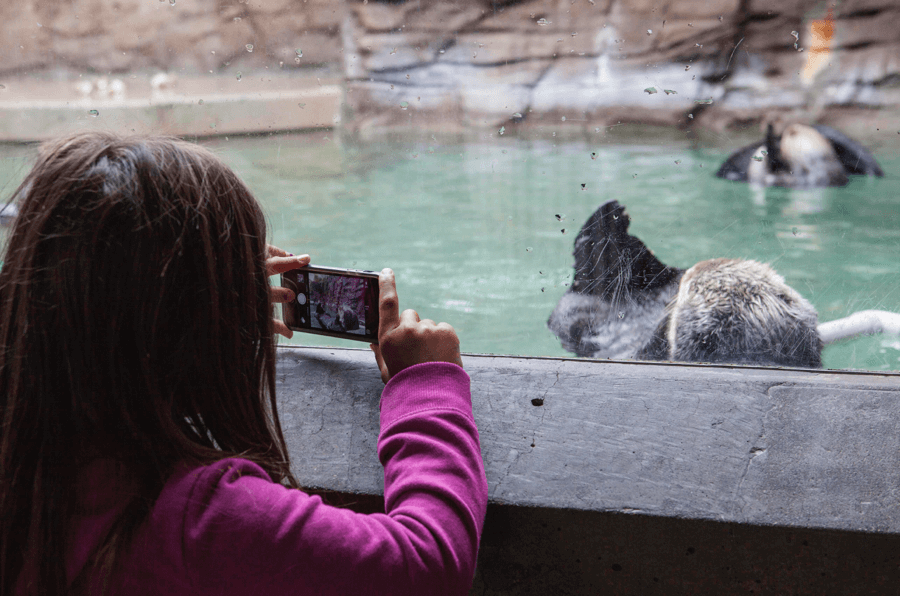 Meanwhile, a couple of thousand miles to the northwest, nearly a million annual visitors to the Seattle Aquarium are inspired to conserve the marine environment through a combination of 100,000 sq. ft. of exhibit and research space along with events, educational programs and conservation activities.
"Whether we're giving visitors an immersive experience of the hidden life beneath the waves of Puget Sound via our massive underwater dome, or providing viewers around the world a window into the daily activities of marine life though our otter cams, Aruba's technology is a key component to achieving our mission," explains Tom Nguyen, Information Technology Manager at the aquarium.
To supply such intimate experiences and furnish the marine environments its creatures rely on, the 40-year-old organization recently upgraded its network to blanket its entire footprint with 802.11ac Wave 2 wireless connectivity using Aruba's 310 Series Instant Access Points (IAPs).
"Wi-Fi is critical externally, to engage the public, and internally, to assure the health of our animals and ecosystem," says Nguyen. "For example, when we rescue animals, our new infrastructure enables installing a wireless camera in their quarantine habitat, which is separate from public areas. This permits streaming an individual's rehabilitation progress to the public while also giving our staff the ability to visually monitor the animal during the weeks that 24/7 care is required."
On a day-to-day basis, the aquarium is also utilizing its new Wi-Fi infrastructure to implement an animal version of a human electronic medical record system, called Tracks. "With it, our staff can record and track diet, water quality, health and other information on tablets for all of our animals in real time," Nguyen says. "This will permit us to improve our understanding of habitat impacts, troubleshoot health concerns and make adjustments faster than in the past."
What's more, the aquarium is boosting public wireless connectivity by leveraging AirWave and ClearPass to improve mobile guest access and, over time, roll out other services. This includes piloting options such as wayfinding and exhibit enrichment, using their infrastructure's location-ready features, to help visitors navigate the expansive facility efficiently and provide them with content related to exhibits, ecosystems and the environment.
"We're also planning to use our Wi-Fi to expand programs such as our live Puget Sound dive events, where we live stream video of divers and interpreters," Nguyen says. "In the past, viewing was limited to gathering areas where we could project the feed. With Wi-Fi, we can use both large-format displays and enable people to stream the event on their mobile phones anywhere in the aquarium."
Regardless, engagement is fundamental to success. "When people can follow a creature's lifecycle or an individual's rehab, they become more invested in all of the factors that contribute to healthy animals and ecosystems," says Nguyen. "This makes Wi-Fi central to our plans and goals as one of the top marine education and conservation organizations in the U.S."
Feeding a Hungry Planet
Of course, our nature pals aren't the only ones who need to eat. That's why Purdue University has teamed up with Aruba and HPE to launch a digital agriculture program to help promote food security worldwide.
With the global population expected to top nine billion people by 2050, researchers estimate agricultural output must double to meet the impending demands. Purdue partnered with us to blend research, innovations and disruptive technologies like the Internet of Things (IoT) to revolutionize farming research with digital agriculture.
"Purdue is the test bed for digital agriculture IoT to enhance discovery and economic development," says Karen Plaut, Ph.D., Interim Dean of the Purdue University College of Agriculture. "We're working to transform agriculture in America and globally."
Using Aruba and HPE solutions, researchers obtain and process data in the field, communicate it to world-class laboratory facilities at ACRE and send it to the main Purdue data center using a 10Gbps fiber connection – for a data transmission rate that is 1,000 times faster than the average internet connection in the U.S.
AgTech innovations arising from the partnership thus far include solar-powered mobile Wi-Fi hotspots – providing researchers with high-performance access wherever it's needed on the 1408-acre research farm.
Now, instead of taking paper and pencil into a field, writing down measurements, driving them back to a building and keying them into a desktop computer, researchers can simply punch data into a mobile device on-site and it's instantly transferred to the appropriate analytics application in Purdue's supercomputer.
"When thinking about developing the next mobile app or visualization tool, the ideas are endless," says Dharmendra Saraswat, Ph.D., Associate Professor of Agricultural and Biological Engineering at the Purdue University College of Agriculture. "To deliver a reliable and useful tool to breeders and growers, we must excel at new things and determine what is useful in a production environment."
Working with HPE and Aruba, Purdue researchers will continue developing digital agriculture solutions that accelerate research and, ultimately, transform farming to improve food supplies worldwide.