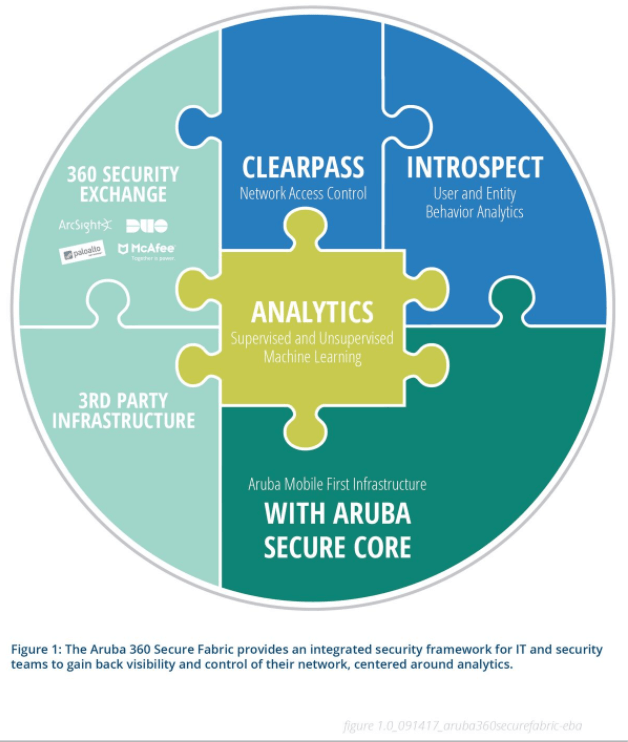 Recently we introduced Aruba 360 Secure Fabric, a security architecture designed around open standards, analytics and adaptive response. The Secure Fabric achieves a number of things, both integration-wise, but also communication-wise. For a decade, Aruba was the security company you never heard of. For many years, we were the sole NSA-approved solution for Suite B wireless connectivity. Our controllers and access points are the prescribed choice internationally for three-letter-acronym agencies, and our infrastructure tools sit at the heart of enterprises that require statute and regulatory compliance, from healthcare to NASDAQ. And yet while we fought like Ali to secure that business, we never spoke of it. I hope you'll read the executive overview or watch the Pulse video to learn more about Aruba 360 Secure Fabric.
What we were known for, in security circles, was our secure network access control (NAC) solution, Aruba ClearPass. ClearPass is the only NAC solution that secures connectivity, wired, wirelessly, on VPNs, in multivendor environments. It's the only solution that integrates with the leading security vendors such as Palo Alto Networks, Check Point, Duo, ArcSight, Splunk, McAfee, Carbon Black, and 120 more at no cost. At no cost, because that is our culture, that is our commitment to our customers and a greater good to business as a whole. We won't put a financial impediment in place of the human issues of integrating a SOC and a NOC.
If your NAC solution connects first and secures as a secondary mission, (the laid back NAC), if your NAC vendor charges you for profiling and fingerprinting devices, if they charge for "orchestration" or usage of a Partner eXchange (emphasis on the PX), then we need a conversation with you. The Home Depot and over 1,000 other customers secured their environments with us this year because of our technology, partners, people and culture.
And now IntroSpect, our leading user entity and behavioral analytics (UEBA) solution, or as my dear friend and spook agency deputy CISO commented,  "Oh how cute, a consumer version." I myself was dubious when we acquired Niara, I questioned the capabilities of machine learning, of the cookie cuttering of data science. I was wrong, no, I was an idiot. I see how customers have deployed IntroSpect, how they are detecting low and slow attacks, and how they are thwarting insider and malicious behavior. The time saved in proactive resolution, the time saved in reduced analysis, and the resources saved in quicker, better-informed decisions and actions – it's a sight to behold, and one I hope we can share with you in the Customer Experience Center.
We are excited that once again Gartner has recognized Aruba, a Hewlett Packard Enterprise company, as a Leader, positioned furthest overall for its completeness of vision, in the 2017 Magic Quadrant for the Wired and Wireless LAN Access Infrastructure. [1] This is now the 12th consecutive year 
[2]
 that Aruba has been positioned as a Leader in the market, including the prior Gartner Magic Quadrant for the Wireless LAN Access Infrastructure.
The team at Aruba is in your corner, ready for the fight, ready to take it to hackers, the malicious insiders, and the rogue IoT.
That's enough of my words. For some real insight, I recommend you read Aruba CTO, Partha Narasimhan's blog, or Larry Lunetta's, Aruba VP of Security, blog.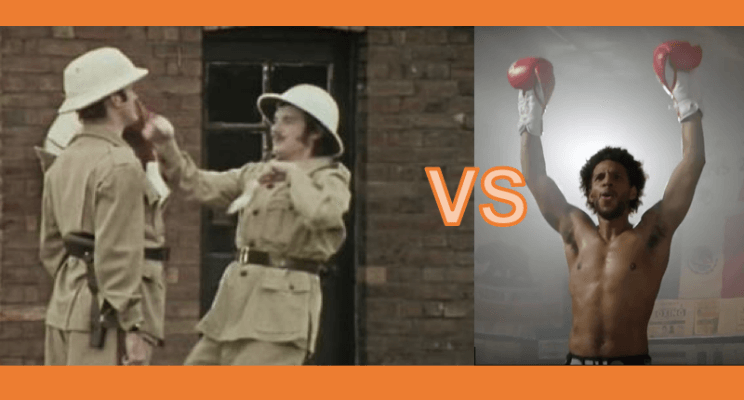 Who's ready for the next round? US and YOU. Watch the video.
Thanks for being customers, thanks for being partners, and thank you for giving us consideration if you are not.
[1] Gartner Magic Quadrant for the Wired and Wireless LAN Access Infrastructure, Tim Zimmerman, Christian Canales, Bill Menezes, 17 October 2017.  This graphic was published by Gartner, Inc. as part of a larger research document and should be evaluated in the context of the entire document. The Gartner document is available upon request from Aruba, a Hewlett Packard Enterprise company. Gartner does not endorse any vendor, product or service depicted in its research publications, and does not advise technology users to select only those vendors with the highest ratings or other designation. Gartner research publications consist of the opinions of Gartner's research organization and should not be construed as statements of fact. Gartner disclaims all warranties, expressed or implied, with respect to this research, including any warranties of merchantability or fitness for a particular purpose.
[2] Aruba's 12 years of placement includes HPE (Aruba) in the Magic Quadrant for the Wired & Wireless LAN Access Infrastructure from 2015-2017 (3 years), Aruba Networks in the same Magic Quadrant from 2012-2014 (3 years) and in the Magic Quadrant for Wireless LAN Access Infrastructure from 2006-2011 (6 years).