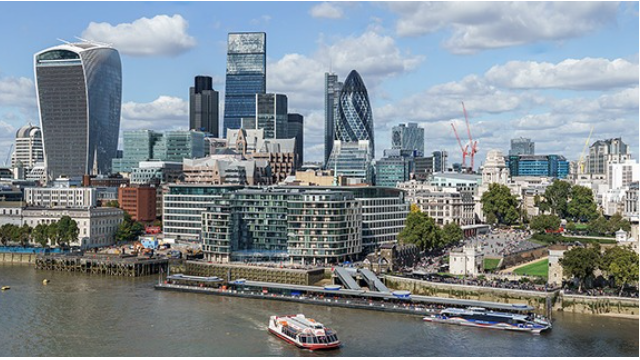 Golf fans at the Ryder Cup, football fans at Tottenham Hotspur and very soon basketball fans at the Chase Center are stepping up their fan game. In each of these very large, very busy venues, team and site owners are diagraming playbooks to create superfan experiences for everyone who walks through the doors. Central to the good times is a reliable, high-speed wireless network with strong security and seamless management.
Luckily, this VIP treatment isn't only for sports enthusiasts. Smart cities are getting in on the action and creating amazing experiences for residents, employees and tourists. In tandem, they are mapping out a long-term plan that supports a highly mobile, hyperconnected, digital world.
For the City of London, architecting a connected district in the heart of the global economy was vital to the area's future. City managers wanted the more than 8.8 million visiting tourists of the Square Mile to feel welcome while supporting the wireless needs of 7,500 residents and 500,000 workers who commute into the district every day.
A Fully Mobilized City Center
When compared to a shiny new arena like Chase being built in San Francisco, the City of London had a double-decker red bus full of problems. The City wanted to cover 100-plus sites, some dating back to 1886 like the Tower Bridge and other more contemporary, traffic-heavy spots like the Heathrow Airport.
Another major consideration was security and management. Free Wi-Fi access was a top priority and easy access needed to be carefully balanced with tight security. Employees from police departments and corporate operations would be regular network users under a single shared architecture, but both needed separate management and security. Making that connectivity riddle even harder was everyone's desire to be mobile.
The City of London solved this conundrum by consolidating its wired and wireless networks to a single Aruba-powered network. They installed 1,000 Aruba 802.11ac Wi-Fi APs in 120 sites throughout the high-profile district and assigned distinct security profiles to users.
Alongside the APs dispersed throughout the district, 400 Aruba campus core and edge switches, mobility controllers, AirWave network management, ClearPass secure network access, and ClearPass OnGuard for advanced endpoint security were installed at the city's data center. For mobile employees, the Aruba Wi-Fi improvements are a huge win, as 70% can now work from mobile devices, regardless of whether they work at the same place every day, roam to different sites or work remotely.
Wireless Unleashes Business and Consumer Apps
Aruba met the City of London's security and management needs while opening the door to a slew of innovative mobile apps. The police are scanning fingerprints with an app to aid suspect identification. Meanwhile, citizens can notify the city of graffiti and potholes through an app. On the business side, another app manages stock control at Smithfield Market, London's largest meat market.
Mobile is truly creating exceptional experiences in the City of London for employees, tourists and residents who frequent the area. Just as fans in the most popular sporting arenas can order food from their seats, check out a favorite player's stats, and post on social media, reliable wireless connectivity is a magnet for engagement. In smart cities, museum goers are downloading special exhibit apps, finding a top-rated Indian restaurant, and getting work done safely when and where they need to thanks to the power and reliability of Aruba networks.
The City of London continues to be a top-tier destination for workers and tourists. You can read more about why city leaders built a powerful, Wi-Fi network to serve a mobile-hungry public in this case study.
More details about building smart city infrastructure are available in this video.