I traveled to Singapore for Atmosphere Asia Pacific in September.  Atmosphere conferences are always fun, and this was no exception. It kicked off with Dominic Orr's Keynote, where one of the customers on stage was Nick Hobbs, of Epworth Hospitals, Australia's largest private hospital. I was part of the team that delivered Keerti Melkote's Tech Keynote on Day Two and it was so fun – the team really put together some awesome demos that went off flawlessly on stage.  Check out recaps of each day.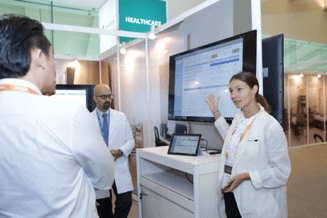 However, the highlight to me was the Experience Zones that the AsiaPac team built.  They created spaces dedicated to Healthcare, Hospitality, Education, and Retail so attendees could experience the benefits of Aruba technology in context. Of course, my favorite was the Healthcare Zone.
The Healthcare Zone simulated a patient's complete journey of care.  The patient started at home, not feeling very well.  Using a smartphone, he consulted a medical chat bot from Ring MD, and based on the symptoms the application suggested he visit a doctor.  As the patient entered the hospital, Aruba Meridian BLE location solutions automatically checked him in and provided directions to radiology where he had a CT scan.  There, Vital, using a HoloLens from Microsoft, manipulated images of his heart in 3D to help diagnose the problem, and recommended checking into the hospital.  Once checked in, the patient and clinicians in the patient room were able to take advantage of an enhanced patient experience through the OneView patient portal.  After a short stay, the patient was discharged but was under remote monitoring via Clinic to Cloud thought his eventual recovery.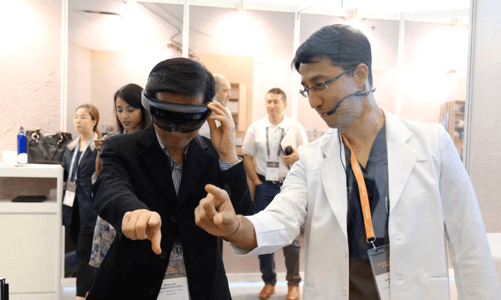 It was a pretty amazing story – Aruba technology enabled all of the various devices and vendors to work flawlessly, feed the right information to the right system, and connect all necessary devices to the right networks, securely.  Most of the devices relied on Wi-Fi for connectivity, and ArubaOS 8 provides many new features critical to a Hospital, such as seamless roaming with controller hitless failover.  ClearPass provided network security and device profiling, taking advantage of the new feature OnConnect, to profile new devices.  Of course, AirWave was monitoring the whole thing, and Meridian location was an integral step in the demo.
The whole experience just goes to show when there are reliable and secure networks, there is no limit to innovation.
Oh, and for those regular readers who have come to enjoy my blog openings that include some kind of bike crash story: while I didn't crash, I did manage to get a little MTB ride in in Singapore. Thanks for asking.
For more information, check out our Healthcare solutions.