The Aruba Networks eSupport team is proud to announce a web-based tool, Aruba Solution Exchange (ASE).  With this tool, you will be able to quickly generate configuration for a variety of use cases.  The tool offers a set of "solutions" and each "solution" targets a common configuration use case.  A "solution" contains a collection of information gathered from existing content including VRDs, tech notes, application notes, user guides, and KB articles.  The information is packaged together into a wizard type of interface which brings the content alive.  You are asked a minimum amount of information about your network and the wizard will use that information to generate a configuration specific to your environment.
As an example, the Wireless SSID solution can generate configuration for a new encrypted SSID on Aruba Controllers.  Only 7 questions are necessary to generate the configuration.  More complex solutions include Aruba Controller Captive Portal and Point to Point Mesh.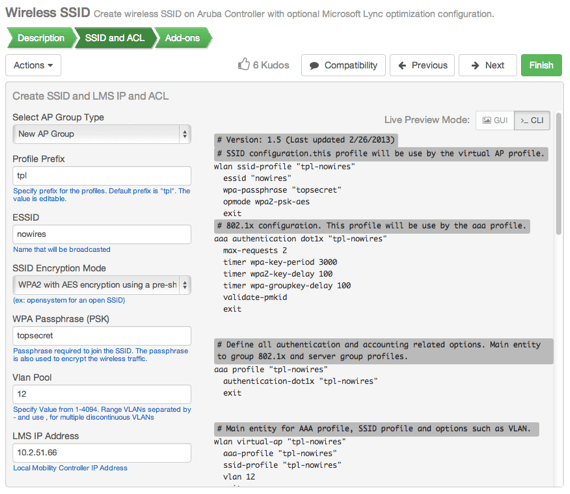 Learn more about Solution Exchange at ase.arubanetworks.com/about.
What's new in Beta v3.1?
The tool has been opened up to all registered community users!
New Features

Version Compatibility Feedback - Users can submit and view feedback for a solution's compatibility with particular product versions.  If you have deployed the configuration built from a solution, please submit which versions it worked on or didn't work on.  Version votes highlighted in green or red have been verified by an Aruba employee that these set of products do or do not work, respectively.

CPPM

 + 

CPG

 

Config

 Support - Solutions can now build configuration in 

CPPM's

 XML format or 

CPG's

 custom .dat format.  Downloadable files are provided and can then be imported into 

CPPM

 or 

CPG

.
GUI Live Preview - The live preview can now toggle between the existing CLI based mode and a new mode that shows GUI screenshots from the product you are configuring.  The screenshots give you a web path so you know how to navigate to this configuration section in the product GUI.

New and/or Updated Solutions

AP Fast Failover - Leverage the new AP Fast Failover feature introduced in Aruba OS (

AOS

) 6.3, which minimizes the AP failover time in the event of a controller failure.
Wireless 

SSID

 - Solution has been updated to optionally configure a High Density network in an open office.
Captive Portal - Internal / External (

ClearPass

) - Solution has been updated to take advantage of the new 

CPPM

 + 

CPG

 support. Go through the solution to create 

ClearPass

 XML and .dat import files in addition to the 

AOS

 

config

 for an end-to-end 

ClearPass

 Captive Portal 

config

.
If you are attending Atmosphere 2014, stop by the Tech Playground booth for a hands-on demo of Aruba Solution Exchange in action!