"We now have a high-performance, reliable network. It's a total win for us."
–Ryan Brunkhorst, Network Administrator, Fresno Pacific University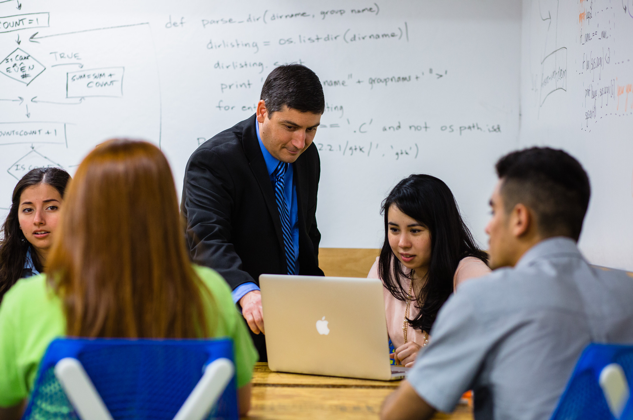 So far in our 8400 blog series, we made virtual visits to various types of enterprises to learn about how the Aruba 8400 delivers always-on, high-performance connectivity with automation that empowers IT.
This blog will dive into how the advanced features of our industry-leading core solution will assist Fresno Pacific University, located in California's Central Valley, with delivering modern experiences to 4,200 traditional undergraduate, adult degree completion, graduate and seminary students as well as about 8,000 community members who pursue a variety of continuing education options annually.
To learn more, we spoke with Ryan Brunkhorst, Network Administrator, about FPU's recent core update to the Aruba 8400 Switch Series.
What were FPU's drivers for adopting the Aruba 8400 networking switch?
Our faculty and administration wanted to explore new curriculum options, but we couldn't deliver the needed capabilities because our existing network infrastructure was obsolete.
To minimize proprietary costs and complications, we sought a solution based on open standards as well as supplying advanced Layer 3 capabilities that included the OSPF protocol.
As most of our applications were moving to the cloud, we also needed a future-proof solution that could scale as our needs expanded. This was especially important for efficiently supporting our four regional campuses, the furthest of which is 100 miles away from our main location.
Why did you select the 8400 instead of another solution on the market?
During our evaluations of the contenders, Aruba's solution stood out for multiple reasons. In addition to providing exceptional visibility with an intuitive web UI for centralized management, other noteworthy features included:
High Availability and Redundancy, Including Live Updates/Upgrades.We were exceptionally impressed with the 8400's robust resiliency. It starts with stringent manufacturing standards coupled with built-in redundancy, enabling automatic failover. In addition, all active chassis components are field-replaceable and hot-swappable, which was attractive for increasing availability and reliability.
Open Standards-based Advanced Layer 2/3 Feature Set with OSPF.Open standards networking is extremely important to us as it enables us to adopt the most suitable companion technologies for our needs, rather than forcing us to purchase only proprietary options. In addition, Aruba's solution is designed to support and secure multi-tenancy environments.
API-enabled Programmability Infuses Automation and Reduces Overhead.We're excited about the opportunities ArubaOS-CX provides to automate tasks. For example, we're also deploying Aruba's 2930 and 3810 switches, enabling us to leverage the 8400's built-in RESTful API's and the Python interpreter to configure and manage those switches, such as running IP SLA tests on the downstream switches and view the results centrally.
Aruba Network Analytics Engine with Intuitive UI. Leveraging analytics to proactively manage and troubleshoot our network will become increasingly important for providing outstanding user experiences. We've installed some analytics agents and plan to explore other agents Aruba's user community is creating.
Future-proofing with Built-in 10GbE/40GbE/100GbE Connectivity.The 8400's scalability tipped the balance in favor of Aruba. Having multiple high-density line cards ensured we could build robust connections to our distribution switches using easily configured link aggregators.
In addition, we'll soon leverage the 8400's plug-and-play characteristics to boost WAN connectivity to our four regional campuses. When this occurs, we won't need any additional equipment – we'll just plugged in the new 10GbE SFP and be done.
That's an impressive list. Can you tell us about your deployment experience?
Although most of my previous switching experience was with another leading vendor, the 8400's interface was graceful and familiar from the start. I had it up and running in a matter of minutes.
After that, we migrated our new top-of-rack switches, the Aruba 3810's. It went flawlessly. Even our Pelco security camera infrastructure, which can be challenging, was quick to set up on our new 8400-based network, including using Protocol Independent Multicast (PIM). Everything worked beautifully.
How about 8400's benefits, what have you experienced thus far?
In IT, a hierarchical infrastructure with advanced features for centralized, streamlined and automated network at our core is resulting in considerable efficiency gains. For example, our help desk has cut machine imaging from as much as 15 minutes to about five, giving our staff time to work on more mission-critical tasks.
Also, instead of detecting a localized issue and then trying to trace it back through the network, we have a system-wide perspective at the top of the hierarchy and can drill down to individual ports. Additionally, the 8400's built-in intelligence helps guide us to the source of a problem.
Moving forward, having a rock-solid core will enable us to complete a planned Wi-Fi refresh.
On the business side, the network's significantly improved performance empowers our faculty to explore and adopt new curriculum options, while students gain the experiences they expect. This improves the perception of our brand, which is vital for continuing to attract students.
Further, our new core helps us support our surrounding communities in multiple ways, such as providing the infrastructure people expect and require for hosting successful conferences and seminars in our facilities.
The bottom line is simple: with the Aruba 8400 we've gained a dependable network that gives everyone - IT and business users alike - the confidence that they can get their work done efficiently and reliably.
To learn more about how your modern mobile, cloud and IoT environment can benefit from the Aruba 8400's flexible and innovative approach to new application, security and scalability demands, click here or contact your Aruba team.
In This Series:
Simplicity Now, Simplicity Later: Aruba 8400
Keeping the Power On: Aruba 8400