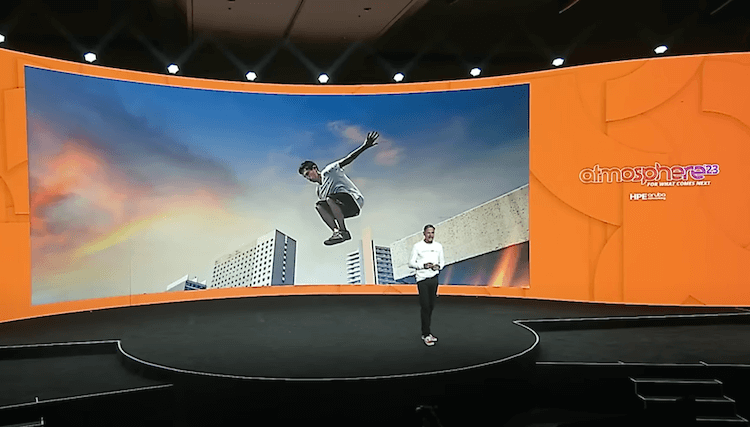 Atmosphere '23 in Las Vegas last week was a joy. It was the 20th Atmosphere event for Aruba and my tenth, but spending time together felt extra special post-pandemic this year. More than 4,000 Aruba customers and partners came together with us to explore what comes next. The keynotes, breakout sessions and technical trainings were buzzing with energy and we all had a bit of fun in the evenings. We also tried to make the event as sustainable as possible.
Here are four key takeaways for our Federal community:
1. Agility matters as we all adapt to "what comes next." Phil Mottram, EVP and GM of HPE Aruba Networking, kicked off a series of keynotes under the theme that agility will matter more than ever. He highlighted the many ways Aruba is investing in growth and reflected on our success helping customers and partners overcome obstacles.
Mottram shared some fun facts: Over the last 20 years, Aruba has shipped 27.6 million APs—delivering enough Wi-Fi coverage to blanket the equivalent of 15,000 Pentagons. We have shipped an incredible 23 million of Aruba CX switch ports. More than 230,000 customers now use Aruba Central, our cloud-native network management solution, which we recently enhanced with more AIOps capabilities and simplified the operator experience.
2. We see four bright areas for growth: data center, private 5G, Security Service Edge, and Network as a Service. Aruba saw triple-digit sales growth for our CX Series data center switches last year, and we continue to add breadth and functionality to the portfolio. The Aruba CX 10000 Series Switch is a game-changer, combining data center switching with hardware-accelerated programmable processing to deliver stateful services in line and at scale.
As the rollout of public 5G gains momentum, we believe that Wi-Fi makes an excellent onramp. We also think there are compelling use cases for private 5G, especially for defense agencies and in the industrial sector. In February, HPE announced the acquisition of Athonet, a leader in private 5G. Karim El Malki, one of the cofounders of Athonet, shared the keynote stage to explain the strategy.
We continue to strengthen our Security Service Edge portfolio as networking and security convergence accelerates. With security designed into the heart of Aruba networking from the start, we traditionally have been good at protecting "things" connected to the network. With the realities of distributed work, hybrid multicloud, and a fierce cyberattack landscape, we want to get better at protecting the people who use our networks. In March, HPE announced the acquisition of Axis Security. Dor Knafo, cofounder and CEO, joined the stage to explain how the addition of Zero Trust Network Access, Secure Web Gateway, and CASB will round out the Secure Service Edge for customers.
Mottram also highlighted our Network as a Service, which runs on HPE GreenLake, as a way for customers to shift from buying technology on a CapEx model to consuming it as-a-service using OpEx budgets.
3. Aruba Central momentum is growing among Federal. NaaS may have been the talk of the main stage, but our own Federal community had some great hallway conversations about Aruba Central, which is FedRAMP Authorized.
Another buzz was DISA's announcement that it is deploying Aruba Wi-Fi 6 and ClearPass to modernize its wireless network and access management at all classification levels in support of 400,000 DoD users and warfighters. We are proud to supply DISA staff with a unified user experience for mobile, IoT, and operational technology (OT) devices across their business applications and other information systems.
4. We did a deep dive into WPA3 attacks and defenses with Federal stakeholders. The Aruba Federal leadership and consulting system engineering teams were pleased to host a breakout session for our community. Khuong Tang, an eight-year veteran of Aruba Federal, led an exploration of potential WPA3 attacks, best practices to mitigate those risks, and how Aruba's RF Protect WIDS/WIFS and geofencing can help.
Aruba Federal is eady for "what's next" for you
We know that network modernization is a journey, and whether your agency is modernizing campus networks, data center infrastructure, or strengthening cybersecurity, our solutions are designed to meet the objectives of our Federal customers, with simplified, secure network solutions that are FedRAMP Authorized and meet other government compliance requirements. At Aruba, we know that agility matters.