Basketball is my favorite sport. I'm attracted to it on many levels. Individual skills are to be marveled at, of course, but more important is teamwork. A player who makes everyone else on the team better is truly great. Magic Johnson comes to mind. He understood the characteristics of every player on his team and made sure they each got the ball so they could do the things they did best.
Networking is a lot like basketball. A network switch should be like a great passer, treating every connected device as an intelligent network player with a unique purpose.  And as in basketball, those network players are mobile -- moving swiftly across all parts of the court.
Today, mobile devices are the way people connect to their apps and services. And mobile users and their traffic might be anywhere, at any time. A large number of wireless users in one room all accessing video will create large amounts of highly localized traffic. That traffic could disperse to different locations, only to regroup later somewhere else.
In addition to mobile devices, Internet of Things (IoT) devices are showing up in increasing numbers at the enterprise edge. According to IDC senior vice-president and chief analyst Frank Gens, by 2025, there will be 80 billion connected IoT devices. The diversity of device types along with their associated security profiles and behaviors is very high. We need new methods to dynamically segment them as well as monitor them for potential vulnerabilities that could be exploited by hackers that are after higher value assets within the enterprise.
Together, these dual trends of mobility and IoT are changing networks in profound ways. They are causing us to rethink older models of building and managing networks.
At Aruba, a Hewlett Packard Enterprise company, our experience with connecting mobile devices has taught us lessons that apply to the entire access network. Traditional wired network design principles are based on the premise that topology changes in the network are few and far between. This sufficed in a world where IT dictated pace and control over all devices and apps.  With the introduction of mobility, a new overlay architecture was necessary to handle the rapid topology changes expected from mobile devices. The overlay separated mobile devices into a more flexible security and policy domain that was independent of the rigid underlying infrastructure.
The capability richness of the overlay architecture raised interesting questions around why it could not be extended to all devices, irrespective of how they connected to the network. Fully embracing this concept led us to investigate the core and aggregation layers of the edge. We needed flexible switching that anchored the complete edge underlay to simplify network operations and support an ever- evolving connectivity world defined by mobility and IoT.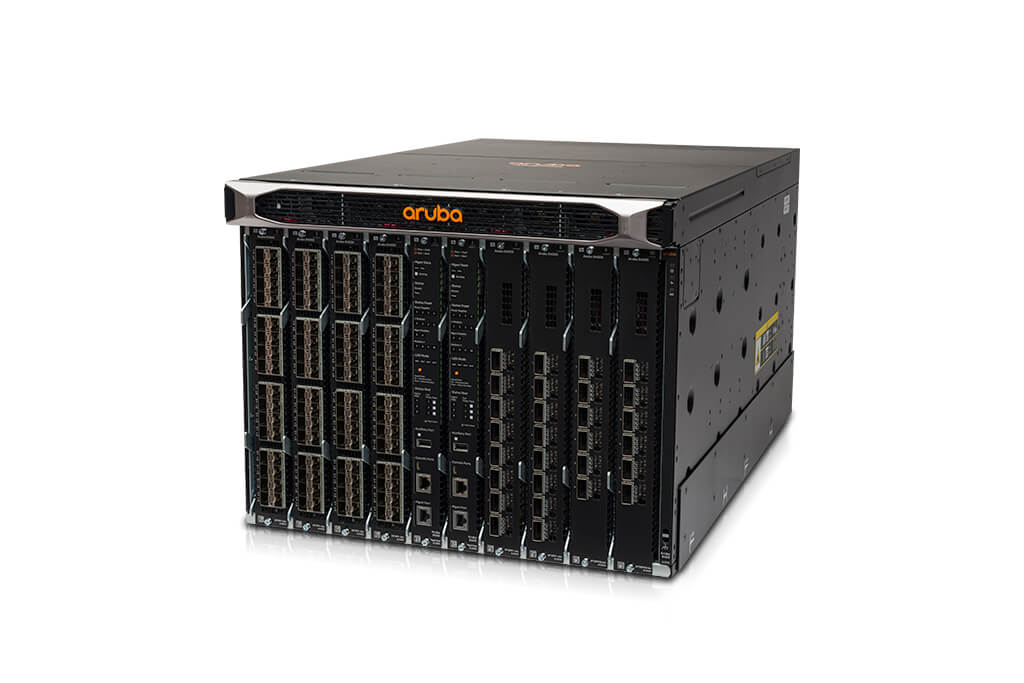 Introducing the Aruba 8400 Switch
Today we are introducing the Aruba 8400 switch, the first core and aggregation switch designed from the ground up in the mobile-first era. Instead of supporting today's dynamic use-cases on the topology constructs and platform limitations of yesteryear, the Aruba 8400 is a brand new beginning that is uniquely built to address the needs of the modern world.
With 19.2 Tbps of switch capacity and carrier-class high availability, the Aruba 8400 is up to the task of playing team anchor at the core. Its features include:
Redundant management modules
Redundant fabric
Individually field-replaceable fans and power supplies
Passive mid-plane
Multiple line-cards supporting 10G, 40G and 100G ports.
As impressive as the hardware features are, I'm most excited about the new possibilities enabled by ArubaOS-CX, the modern operating system powering the 8400. ArubaOS-CX is specifically built to break away from the rigidity and inflexibility of older operating systems powering conventional core/aggregation switches.
A few of the highlights of ArubaOS-CX include:
Database centric design: Because the operating system has been built from the ground up for programmability, this is truly a switch for the modern era. With the database-centric design and a programmatic interface to the entire database schema, Network operators have access to REST-based APIs to every network function and state, both persistent and ephemeral, within the switch. These APIs enable access to a rich set of telemetry data that can be seamlessly merged into external management platforms and services for advanced visibility and troubleshooting, thereby enhancing the speed of problem detection, diagnosis, and resolution,
Programmability: Brittle and stateless CLI scripts for configuration and management are now headaches of the past. The use of true REST API's allows integration into many systems, for example, spreadsheet functions, bringing the power of programmability to the non-programmer. And since the configuration is stored in a structured database instead of a text file, rolling back changes is easier than ever, thus dramatically reducing a risk of downtime and performance issues.
Extensibility: ArubaOS-CX includes a Network Analytics Engine that supports microservice extension capabilities to troubleshoot the network and specific business-critical applications. ArubaOS-CX Network Analytics Engine (NAE) includes a python sandbox with full access to the internal database and a Prometheus time-series database for any relevant detail. This allows the operator to program agents on the switch, monitoring events, collecting data when events occur, and reacting to them in real-time. The entire Aruba Airheads Community will collaborate to create these agents.
New extensions can be created and deployed in the field to enhance monitoring, visibility, and troubleshooting needs for custom apps.
As you can see, we have now brought the flexibility and programmability of the mobility overlay down to the bare metal of our foundational core and aggregation layers powering the edge. With this new architecture, our customers will be able to accelerate innovation. Thanks to its highly programmable software approach, the Aruba 8400 has the orchestration capabilities needed to bridge a new world of end-user mobility and smart-building IoT. As it turns out, many of the innovations we created for wireless make the wired world work better too. A lot like Magic Johnson, the Aruba 8400 makes every network device better.