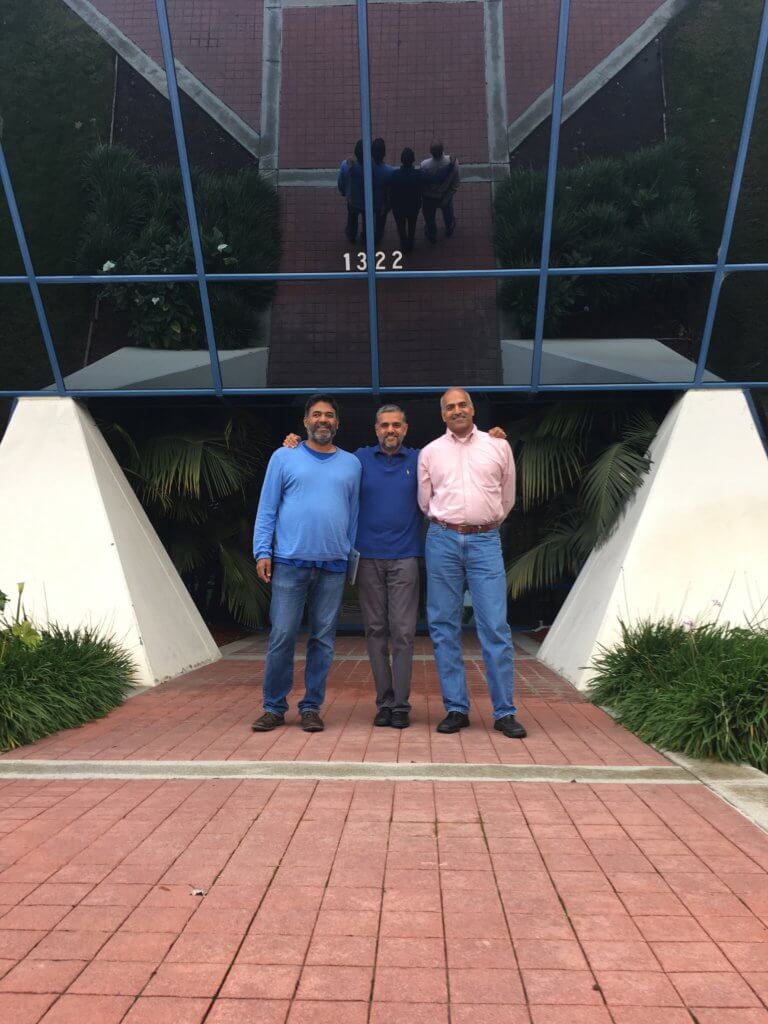 The trajectory of my life changed one weekend morning early 2002 when I met Keerti and Pankaj at La Boulangerie in the Pruneyard. They talked about building enterprise grade Wi-Fi networks. I had learned networking as a young engineer at SynOptics, the one-time leader in shared Ethernet networking for enterprises. As enterprise access shifted from shared to switched Ethernet, I witnessed first-hand how a leading company can lose to Cisco. So, Wi-Fi seemed like an opportunity to compete against Cisco and win. I am forever grateful that Keerti and Pankaj wanted me to be part of the team.
I fondly recall the early days of Aruba when I carried my desktop tower and monitor to the incubation space at Matrix Partners. In that room, we studied the 802.11 specification, defined the 802.11 MAC split, and the role of the controller in a Wi-Fi network. We made crucial decisions there, like the use of Linux, Sibyte, Cavium, and GRE that turned out to stand the test of time.
Even then, the philosophy of "Customer First, Customer Last" was the main reason we had more than our share of customer wins in high tech and higher education. One memory that stands out is spending the night on the floor at JFK Airport during the Great Northeast blackout after working at a financial institution lab, eventually replacing their dated Cisco infrastructure. The seminal win for me was Microsoft, our biggest Cisco takeout at that time. The first deployment was four IDS sensors, which eventually expanded to the entire campus Wi-Fi (Go ARM!).
I can recall many other wonderful memories during those early days. In a Tribeca loft we had our first real demo of the solution where we showcased Aruba technology to customers, partners, and press. In LA, we had a ground-breaking Wi-Fi performance test where we learned first-hand about the challenges of building a repeatable Wi-Fi performance testing framework. We dragged the controller, AP's, and all the connecting gear to a New York based university to demonstrate the solution to undergraduate students who had oversized influence on product reviews.
As Aruba started to grow, we began our journey into India and China. I remember working at the Matrix Partners offices in Bangalore where we hired our first four Aruba India employees. Right after the Azalea acquisition, Dom Orr asked me to go to Beijing to work on Instant, and I wondered how to build products with a group of talented engineer, but without a common spoken language and with stark cultural differences. However, working with the Beijing engineers for those five years taught me that the language of tech is source code and it has no barriers. I feel fortunate to share the development of the Instant business with engineers from China, India, and Ukraine.
The next 18 months was spent building ACP and Aruba Central with engineers in Santa Clara, Bangalore and Chennai. Together, we learned the profound ways Cloud has impacted every aspect of software. Key to our growth realizing the evolution of software from monolithic systems to manifest-based micro-services and the importance of operating it at scale. Early decisions like Docker, Kubernetes, and the Kafka-Spark-Cassandra ETL pipeline have endured as Central has scaled to support our largest customers. In hindsight, this was a period of prodigious learning and substantial growth.
Over the last 2 years, a small team at Aruba has been collaborating with engineers across HPE to realize the vision of edge-to-cloud platform as a service. We imagined Common Cloud Platform (CCP) and Common Cloud Service (CCS) and collaborated with business units across HPE to incubate cloud native services for these businesses.
Aruba's ability to be at the cutting edge of enterprise networking can be attributed to our willingness to innovate, have no technology or architecture religion, and to pivot hard when needed. It is gratifying to have been part of a team that built and evolved three generations of WLAN products: controller-based, controllerless Instant, and Cloud Wi-Fi. Aruba has not only left a profound and indelible impression on my life; but gave me purpose and character-building experiences that made me a better person.
As a family, we experienced the joys of birth, the sorrow of loss, and the normal ups and downs of a growing family. Through it all we built products, won customers, created memories, and forged friendships that will last a lifetime.
Thanks to you all!