Few argue the business value of digital transformation. Creating amazing experiences that win the hearts and minds of customers is key to achieving a sustainable advantage. Employees, too, expect an exceptional technology experience in the workplace. The advent of cloud, mobile and the Internet of Things (IoT) gives businesses new ways to create these experiences, drive new efficiencies and gain digital control over the physical world.
Organizations are moving fast to embrace these technological advancements, so IT teams must move even faster. Unfortunately, networking hasn't kept pace with digital business, as inflexible, aging infrastructure inhibits IT agility and slows business transformation.
It's time for a change. It's time for infrastructure to be cloud-ready, easily deployed, and simple to manage, with enterprise-wide visibility to quickly resolve network issues before they impact the user experience.
The Aruba CX Switching Portfolio was purpose-built to deliver on these requirements and more. Today, we are thrilled to announce several switching innovations that will propel your businesses into the mobile, cloud, and IoT future.
Proven in the Core, Now Extended to Campus Access
Since launching Aruba CX in June 2017, more than 1,000 organizations have modernized their network cores by deploying our CX 8400 switches. Today, we are building on this proven success by extending Aruba CX to the access layer of campus networks.
This monumental release includes two new switching platforms, 140+ rich software features, and enhanced management capabilities. But it's probably best encapsulated by three attributes: a modern cloud-native design, a single operating model from edge access to data center, and built-in distributed analytics.
Cloud-Native by Design for Full Programmability and Automation
Traditional networks are configured and managed manually, adding days or weeks of delay to what should be fast-moving digital initiatives. In fact, 70% of network configurations are done manually.1
The initial launch of Aruba CX changed that. At the heart of the portfolio is AOS-CX, a cloud-native network operating system that is built on a microservices architecture to deliver the programmability, agility, and process resiliency that's necessary in an always-on digital world.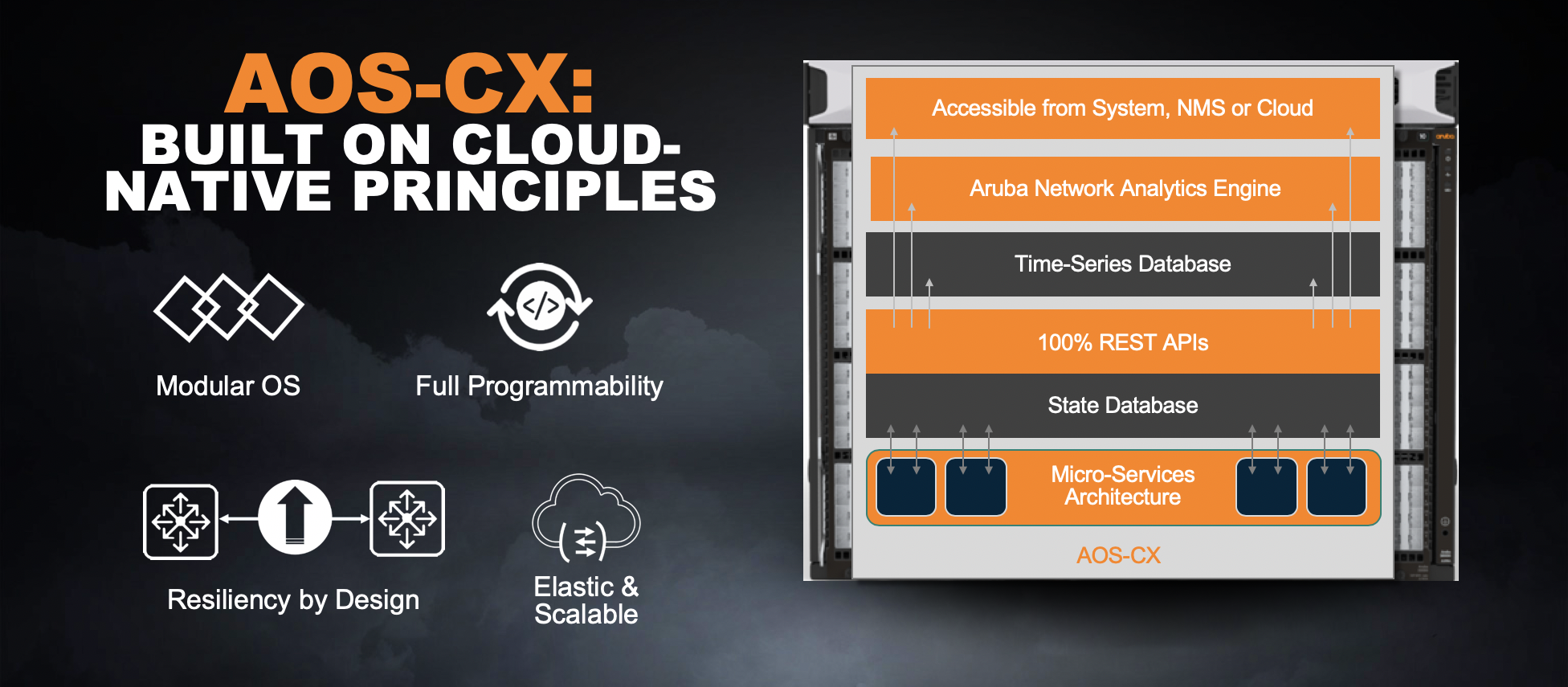 Today, we're introducing several enhancements that bring even more automation and ease of management for today's network operators. This includes updates to NetEdit, our switch configuration tool that arms IT teams with the power to automate rapid network-wide changes.
When combined with the Aruba CX Mobile App, NetEdit 2.0 simplifies many day 0 through day 2 operations. Whether a network operator is installing a new stack of switches or updating the entire network to comply with new policy requirements, deployments are swift, conformant, and error-free.
A single operating model from campus access to data center
IT teams have traditionally struggled with network operations that are fragmented, with different operating systems and hardware at each network layer. But with this release of Aruba CX, customers now have the flexibility to deploy the same switching architecture—based on a single operating model—across campus, branch, and data center networks.
This single architecture is made possible through the introduction of two new switching families: the modular, chassis-based Aruba CX 6400 Switch Series and stackable Aruba CX 6300 Switch Series. The 6400 series is suitable for any workload or use case from campus access to the data center, while the 6300 supports 10-member stacking for ease of management in campus access and aggregation.


 Aruba CX 6300 and Aruba CX 6400 Series Switches
These new platforms round out what is now the industry's first end-to-end switching portfolio. Both deliver the performance to support IoT, Wi-Fi 6, and other emerging technologies, with built-in flexibility and scale to accommodate tomorrow's demands.
Distributed analytics with intelligence in every network node
IT operators spend 70% of their time trying to identify and diagnose issues.[1] Armed with only limited visibility across the network, operators are usually in reactive mode when problems crop up, leading to longer service interruptions and frustrating customers and employees alike.
We started closing this visibility gap with the introduction of the Aruba Network Analytics Engine (NAE) on our CX 8400 core switches. An on-box application powered by AOS-CX, NAE enables network operators to natively capture rich telemetry on every CX switch deployed in the network, in addition to grabbing information from neighboring infrastructure devices.
Now that we've extended Aruba CX to campus access, customers will benefit from real-time, network-wide analytics. So instead of fragmented visibility, network operators can capture actionable insights from anywhere in the network to rapidly detect and resolve even the most vexing network- and user-impacting issues.
Switch Forward with Aruba CX
Your enterprise needs an edge-to-cloud network running on a common platform, with automation and intelligence in every node. Now's the time to displace your legacy network by moving forward with the Aruba CX Switching Portfolio.
To learn more about these exciting new switching innovations, read "Break Free from Legacy Network Constraints with Aruba CX Switching."
[1] Gartner, "5 Network Cost Optimizations," June 2019