The Wall Street Journal recently published a fascinating article titled "CFOs Look to Ramp Up Automation Investments Amid Pandemic." The business case for automation is clear, but as I talk with customers I'm always reminded of the old cartoon: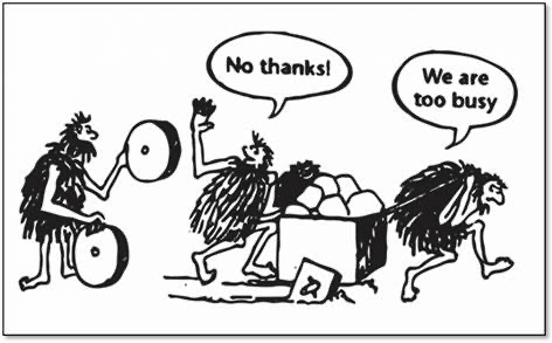 However, in the current environment it's more important than ever to be proactive and take steps now to streamline operations which eases business continuity challenges today, and prepares the way to accelerate out, rather than limp back, once our world starts to recover.
I was truly encouraged by the WSJ reporting on enterprises who are accelerating their investments in digital transformation during the pandemic.
Defensive measures are essential, but the best leaders also think strategically about opportunities to go on the offensive.*
One area of Enterprise IT that has lagged in automation adoption is Enterprise Networking. Legacy networks need to evolve beyond providing simple baseline connectivity and uptime. We all nod our heads at "Measure user and application experience, not packet loss," and "Improve agility versus just keep the lights on." But more needs to be done to make it easy to adopt enabling automation, easy to operate ongoing, and easy to answer the challenges and opportunities that the business needs.
Orchestrating the end-to-end network
To help our customers accelerate this shift, I'm excited to share that HPE is integrating HPE Composable Fabric software-defined networking technology (via our Plexxi acquisition) into Aruba.
This integration will bring the best of HPE and Aruba's world-class data center networking portfolios together. Specifically, we will integrate Aruba's CX switching portfolio and our HPE Composable Fabric orchestration and automation technology to deliver a software-defined networking fabric that will deliver new levels of automation, orchestration, and analytics for our customers.
HPE Composable Fabric especially shines at helping administrators manage, program, and visualize their entire end-to-end network fabric through a single pane of glass with an intuitive and simple UI; the software reflects a very strong UX design ethos. Robust APIs enable tight integration into other data center components for seamless configuration and operational experience – open and integrated.
Moreover, HPE Composable Fabric is also fully infrastructure and application-aware. Based on this awareness, HPE Composable Fabric can automate various configuration and lifecycle events. For example, via the tight integration with VMware vSphere®, HPE Composable Fabric can discover and visualize virtual and physical infrastructure elements and automatically respond to VM modifications with the appropriate fabric changes. The integration allows VM administrators to manage fabric operations all from a single VMware console.
Aruba CX is now integrated across HPE solutions including: HPE GreenLake Hybrid Cloud, HPE SimpliVity, HPE iLO Amplifier Pack and Telco DMTF Redfish® standardization, among others, and many more integrations planned as well.
Accelerating our Edge-to-Cloud vision
Since launching Aruba CX in June 2017, thousands of organizations have modernized their network infrastructure by deploying Aruba CX switches – and many are now looking to extend this powerful solution into their data centers.  Many IT teams are struggling with network operations that are fragmented, with different operating systems and hardware at each network layer.  Aruba will continue to invest heavily in expanding our CX switching portfolio to help customers simplify data center operations with future-proofed hardware, cloud-native software, intelligent analytics, and software-defined orchestration & automation.
*Source: Driving Leadership Performance and Development in a Crisis
Learn more
Aruba Blog: "Break Free from Legacy Network Constraints with Aruba CX Switching."
SDxCentral: Scaling the Edge with Redfish
Packet Pushers Heavy Networking Podcast: Aruba's Data Center To The Edge Vision