Digital transformation is changing the way people work and access information. Customers are demanding mobile solutions and businesses are finding they can be more agile by leveraging the cloud. As part of this evolution, Microsoft is seeing a transformation in our partner productivity models as partners are modifying and expanding offerings from traditional project-based services to managed services and custom IP. Microsoft sees a unique opportunity for Aruba Partners to benefit from this shift by leveraging your unique skills with voice and networking to increase your profitability.  Partners who have taken this journey are enjoying profit margins of up to 40-50% greater than average product or implementation services. This also creates a much deeper customer connection by focusing on lifetime customer value.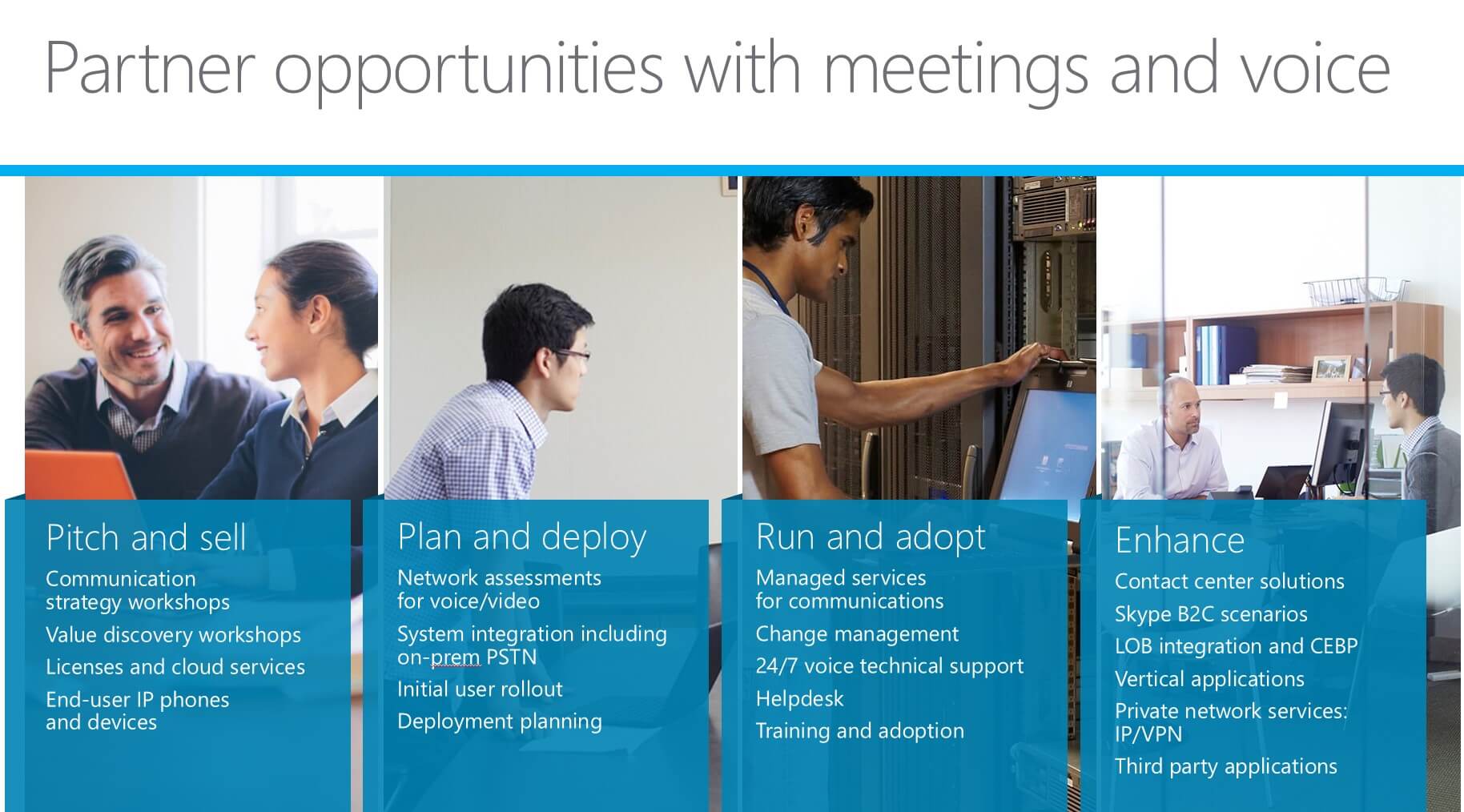 Evolution of partner services with Unified Communications
Benefits of adding Cloud Voice to your offerings:
Microsoft has published a series of ebooks in conjunction with IDC that provide great insight to the "Modern Partner." From our research, we see that on average, profit margins can grow from 35% to 70% when expanding offerings such as packaged IP. Microsoft has also released a set of cloud productivity financial models that can enable your firm to model your own services. As you differentiate your offerings you have the opportunity to provide packaged solutions for your customers and move to recurring revenue models. Below is an example of sample services and revenues.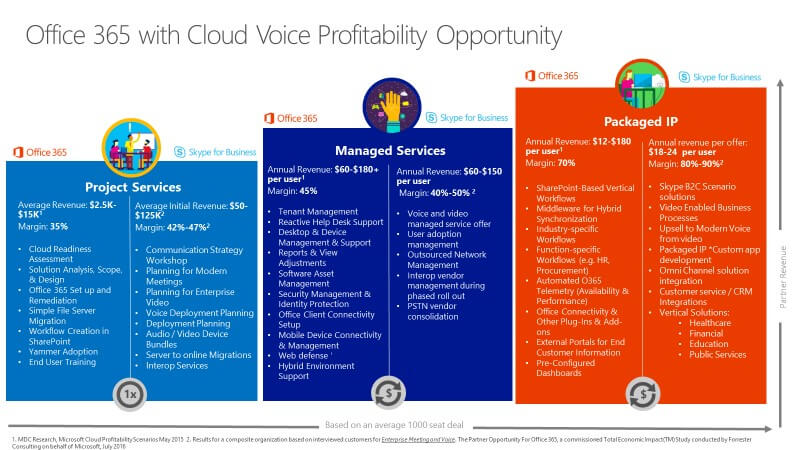 What is changing in the communications landscape?
Communications is beyond just peer to peer technology; it's about creating viral and pervasive meeting solutions. Wainhouse found 56% of all meetings involved Skype technology. Almost 6B million minutes of conferencing each month in the US.
Over 3B millions of calls per day on the Skype and Skype for Business network
80% of Wi-Fi Networks need upgrading to meet the surge of mobile users
Survey by NoJitter found 44% of enterprises are considering replacing their traditional call control with Cloud PBX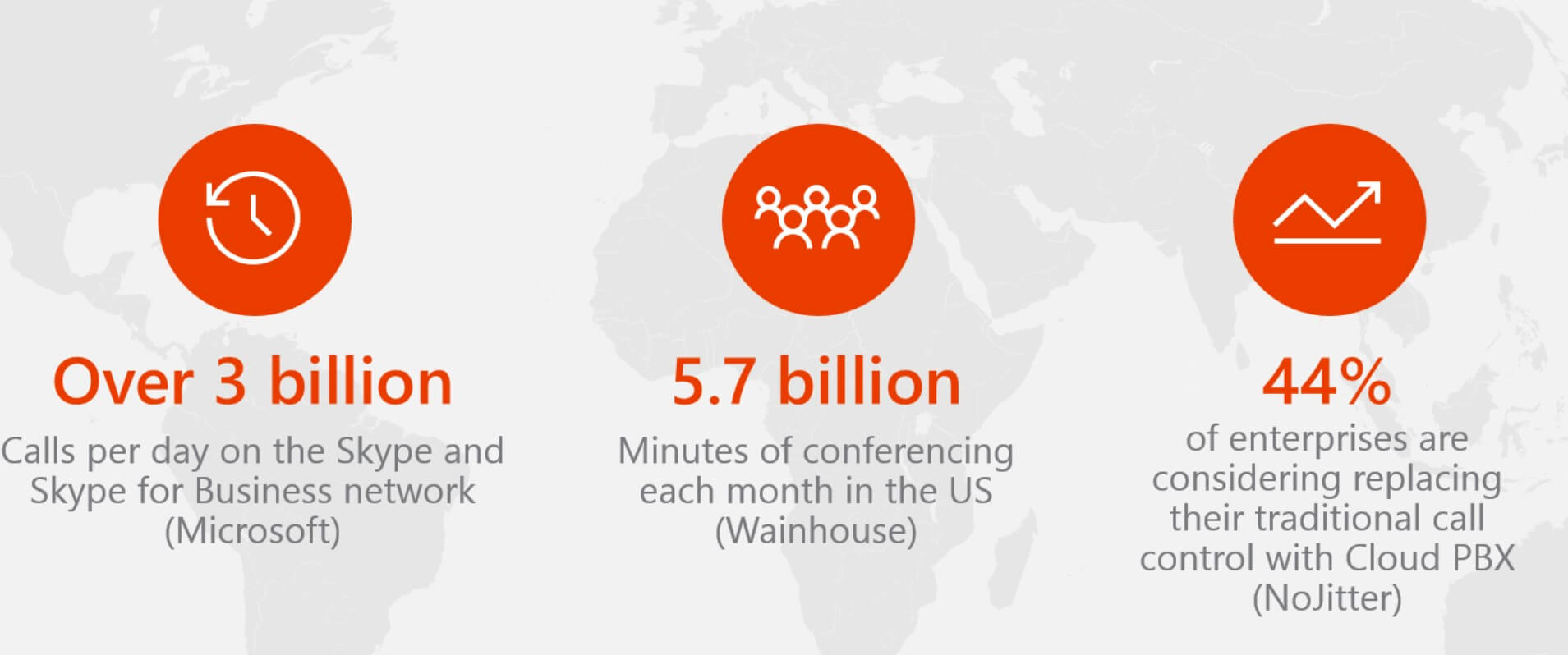 How does Skype impact this changing market dynamic?
Skype for Business, which is part of Office 365, is one platform for meetings and voice. Skype brings familiar experience users love with the security, compliance & controls to enable groups to collaborate more effectively. Many organizations are saving significant costs with the consolidation of web, audio & video conferencing along with PSTN services from Microsoft.
Aruba & Microsoft Together:
As rising unified communications and collaboration increase, there will be increased demand on the wireless infrastructure. Wi-Fi solutions need to be purpose-built to support applications like Skype for Business Voice

Aruba Instant comes with automatic RF management that ensures the strongest Wi-Fi connection for all mobile devices and has granular visibility into mobile apps prioritizes business-critical data, and keeps out the malicious content.
AppRF technology recognizes and prioritizes Office 365 over non-business-critical applications for a better user experience and higher consumption
Heuristics technology recognizes and prioritizes voice and video so your network can handle Office 365 voice services as they're rolled out
Aruba Instant is Skype for Business certified and UCC ready out of the box and provides a path for resellers to grow from O365 to UCC solutions
Power of the Alliance
Microsoft and HPE have a worldwide alliance aimed at leveraging our complementary strengths and supporting our partner ecosystems

As part of the alliance, we have training investments for partners who are committed to the Microsoft platform and want to grow their Communications offerings with Cloud Voice
We also have programs designed to help you grow your customer base by providing funding for E5 workshops
Not a Microsoft partner today? That's ok, here is an overview to get started
Already a partner? Here are tools for expanding your skills
 Partners who have experience in Voice and Skype on premise can expand their skills by obtaining "competencies" for specific Microsoft technologies. The Microsoft Communications competency is critical to ensuring your practice is enabled to deploy, support and manage Skype Voice in the cloud. Specific courses offered are:
Prior to gaining your Communications competency, we recommend having foundational expertise in Office 365 and the Cloud and Productivity competency.
In summary, we believe that the time is right for communications partners to expand their skills and ride the wave of customers looking to upgrade their PBX, provide more integrated communications experiences and flexible solutions by using Microsoft Skype for Business in the Cloud as the platform. We hope your firm will come along for the ride!
For more info contact our team:
US HPE Channel Alliance- Jodi Lustgarten jodise@microsoft.com
WW HPE Channel Alliance- Yonca Yalcin yoncay@microsoft.com
EMEA Channel Alliance Richard Love v-rilove@microsoft.com