In a recent conversation with a large enterprise customer based in Chicago, the topic of the all-wireless office came up. As I mentioned in my earlier post on the AWO, it really comes down to one question - when can we unplug the desk phone? Because, as long as we provision desk phones we still need to run cables to offices and while we are at it, we might as well run and maintain wired networks. This customer as it turns out is using Microsoft Lync and wants to eliminate the desk phone by making the PC the hub of enterprise Unified Communications.
Despite all the proclamations about the post-PC era, many still use the PC as a primary productivity tool along with smartphones and tablets together. I think the opportunity is to leverage the unique aspects of all our personal computing devices and create more seamless experiences that improve our overall productivity. Email, evernote, box.net and many other apps do this quite effectively. So why not UC? In this case, the customer had thought through the steps in their evolution towards the all wireless office and PC-based UC was the first practical step while they wait for mobile UC to mature. More on this towards the end of this post.
So my search began after this conversation to see if I could unplug my own desk phone and create a wireless UC experience for my desk. I use Lync quite heavily on my Windows laptop. But every now and then I would use my wired Avaya desk phone mostly when I needed to simply pick up a handset and speak or use the speakerphone function to participate in a long conference call.
When I analyzed my needs, what I really needed at times was the ergonomics of a desk phone form factor with its handset and speakerphone capability. This requirement was very ably fulfilled with the Polycom CX-200 USB phone which plugs into my laptop USB port. There was also no need to plug it into the wall since it operated on USB power. Polycom has other USB powered desk phones for Lync that you can find at http://www.polycom.com/products/microsoft_optimized_solutions/voice/index.html. Other options here include solutions from SNOM which can be found at http://www.snom.com/en/products/unified-communications/snom-uc600/.
The next question was how well Lync would work for long duration conference calls. I am happy to say that it works really well over wireless despite my office being in a very dense Wi-Fi zone with over 2000 APs broadcasting their beacons. Thank god for 5GHz!
For video conferencing, I use the built-in camera on my laptop which is enough for most of my needs. Although I have seen some colleagues use a better USB camera hookup for higher resolution video calls. For conference rooms, we use the Polycom CX5000 which was originally developed at Microsoft itself and known as the Roundtable. It works really well for group video conferences. http://www.polycom.com/products/voice/conferencing_solutions/microsoft_optimized_conferencing/cx5000.html
So I finally unplugged my desk phone a few weeks ago! Here is a picture of my office desk.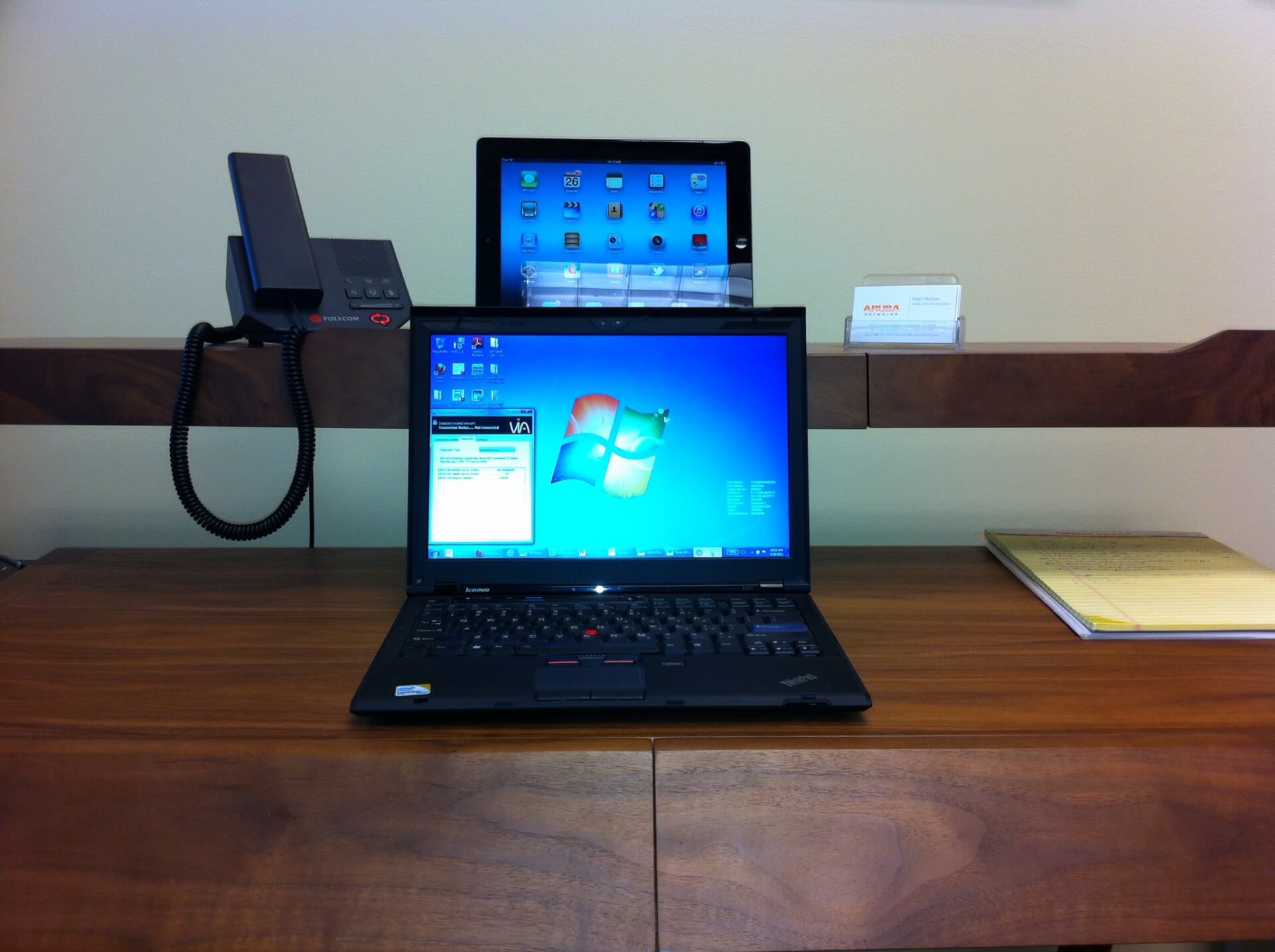 I leave my laptop on my desk for the day and take it home after work. I use the iPad in conference rooms for notes, presentations and such and always have my iPhone on me. Feel totally unplugged but really well connected!
Here is a picture of the increasingly retired state of desk phones at Aruba.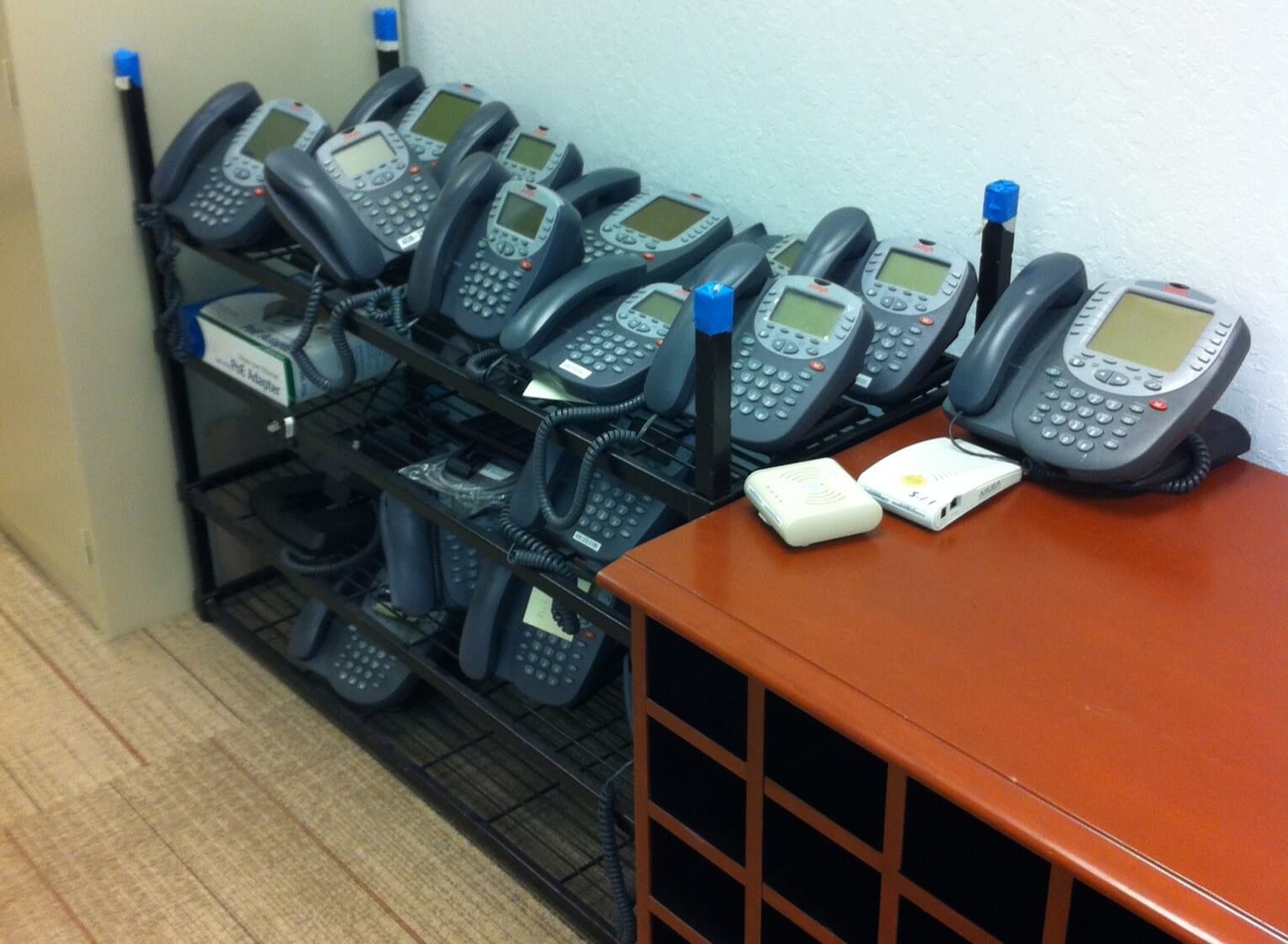 Mobile UC is the next step after unplugging the desk phone that makes the all wireless office experience better than simply replacing the wired experience with a wireless experience. The moment VoIP calling becomes a standard part of the Lync app on mobile devices, enterprises can offer a totally mobile UC experience, which can never be offered on a wired network. The Lync client on smartphones today offers IM and presence capability and integrates with the cellular phone on the mobile device but doesn't use VOIP yet. This is still some time away according to most industry observers and there are choices from companies like Altigen that offer Lync clients for mobile devices that use VoIP.
However, even if you have not decided on mobile UC yet, there is no reason to wait. Its fine to start by unplug your desk phone and get the experience supporting multimedia over wireless. Mobile UC is simply the next step in this evolution and we will talk more about our options there in a future post. Meanwhile, here is my final word to the remaining 50% of ports that connect to desk phones - beware!
I would love to hear about your own experiences with becoming an unplugged enterprise citizen by commenting on this post or tweeting about your experience using #allwireless
Stay tuned for the next installment coming soon. Follow my blogs here or catch me on twitter @KeertiMelkote
Keerti Melkote is co-founder and president of Aruba, a Hewlett Packard Enterprise company.