After a long break, I am back to talk about a relatively interesting topic 🙂 There are different names for it out there. Bonjour, mDNS, zero configuration networking, etc. In a nutshell, how do you make services such as AirPlay (mirror your Apple device screen to a TV or projector) and AirPrint (print using your iOS device) that are designed for home use, work in a large scale WLAN?
Zero configuration networking (zeroconf) is designed to enable service discovery, address assignment and name resolution for desktop computers, mobile devices and network services. It is designed for flat, single subnet IP networks - not so much when the WLAN is supported by many VLANs.
IT organizations in the general enterprise want to make zero configuration networking available to end users at work. Use cases include sharing network resources such as an AppleTV in a conference room for projecting a mobile device screen or printers in common areas.
IT organizations in education institutions want to do the same in classrooms and dormotories. Use cases include exclusive access to a student's personal AppleTV in a dorm room or to an AppleTV in a classroom registered to be used only by teachers. Hence when these services are propagated across L3 networks, same IT organizations need a way to identify which device belongs to which location, which group of users or which specific user.
Couple of more use cases are highlighted in the diagram below.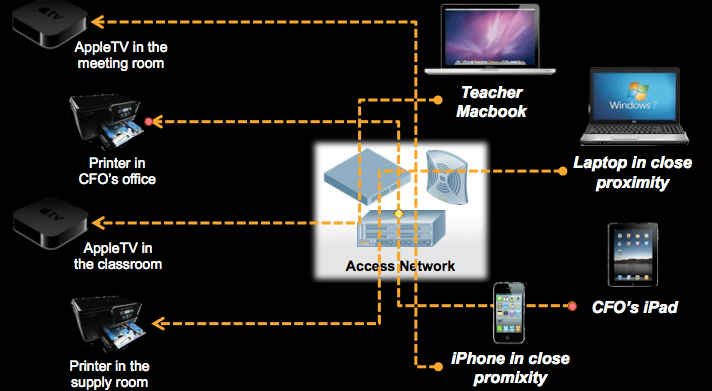 Thanks to great set of ideas from John Turner (aka. turner), Director of Networks & Systems at Brandeis University, Aruba was able to bring a capability to market named AirGroup. You can read more about the details by taking a look at this Aruba technical brief. You can use the discussion board under ArubaOS forum to join the conversation. Aruba Co-founder Keerti Melkote (aka. keerti) and John will discuss Aruba AirGroup on the April 4, 2012 webinar.
With Keerti, John, Aruba VP of Technology Partha Narasimhan (aka. partha), I will be demonstrating AirGroup for the 2012 Airheads Vegas conference attendees today. Wish us luck 🙂 We will highlight two important aspects of a scalable solution for this unique and interesting problem.
Self-registration of services: Enable the end user or the IT administrator to register the available services and define user-and location-based access privileges.
Context based access control: Take the end user's role within the organization, his or her mobile device type and location into account before the services are made visible to her mobile device.
We will talk more about AirGroup in the weeks ahead, so stay tuned!
ps. John is also one of the keynote speakers at 2012 Airheads Vegas conference that's set to kickoff today. For my interview with him on how you can make Wi-Fi services work as good as it does at home and wired/wireless unified networking, take a look: