We depend on reliable access to Wi-Fi to send emails, make phone calls, share files, communicate with customers and file our expenses. When the Wi-Fi is flaky, we get impatient, frustrated and stressed out. As individuals, we ignore the incredible interdependencies behind delivering a flawless network experience. But with our lives increasingly dependent on mobile, cloud and IoT, it's becoming even harder for IT departments to deliver the exceptional service availability that people expect.
The User Experience Lifecycle
Historically, when we think about user experience, we tend to consider the initial interaction the user has with the network. But the true user experience is far broader: It starts with how a user connects to the network. Is it via a captive portal, 802.1X or an onboarding workflow? I call this the "Pre-Connection User Experience."
Once on the network, it then involves the application experience. A user just wants to do their work and use their apps anywhere and at any time in a completely seamless manner. The network should be invisible. I call this the "Post-Connection Experience."
For IT, the ability to be proactive and quickly resolve any problems that may impact the user experience even before the user is aware. I call this the "Time to Resolve Problem Experience." This is the User Experience Lifecycle, and at Aruba, we are focused on addressing each component of this lifecycle.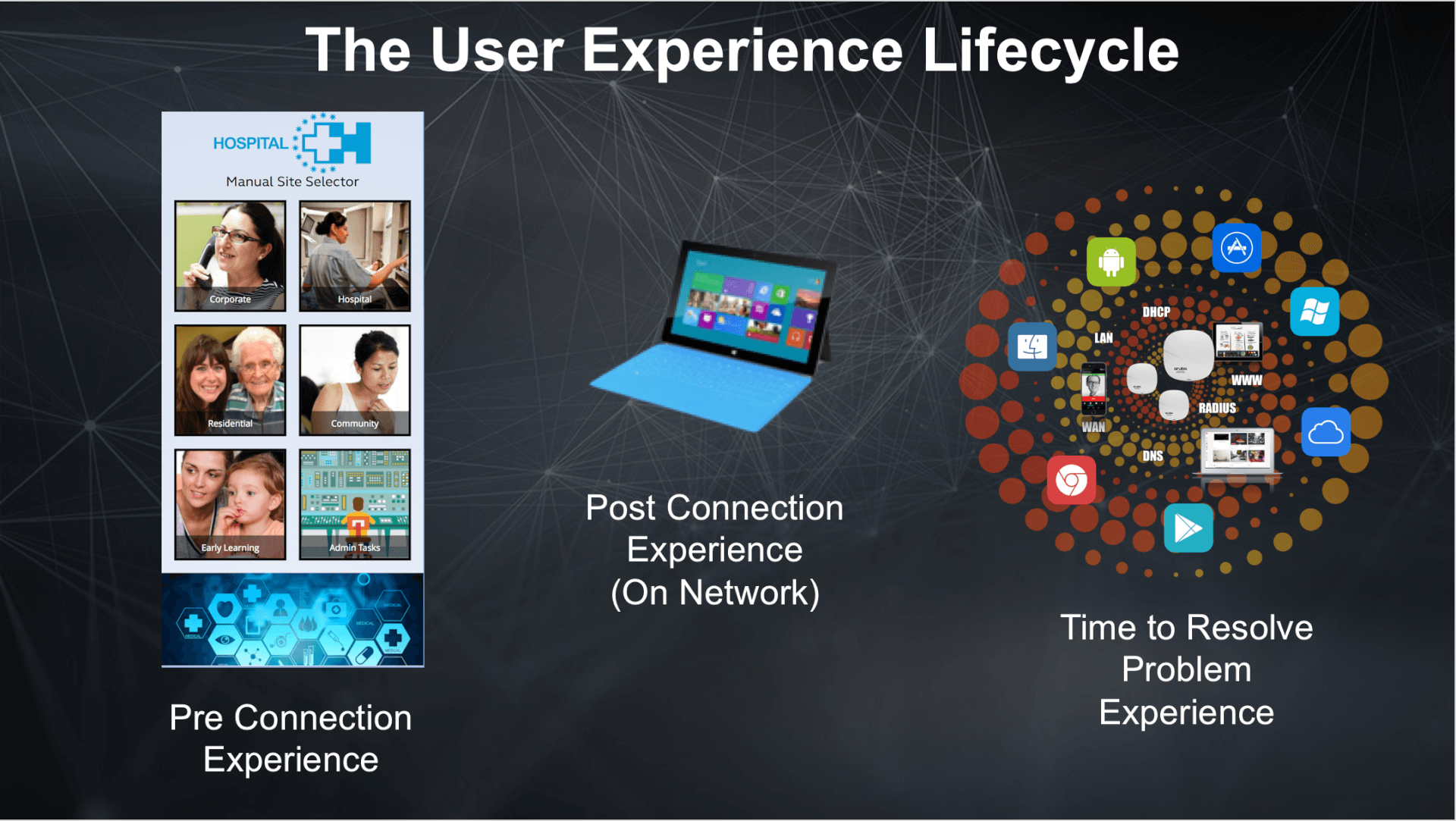 The Initial Interaction
A great Pre Connection Experience goes well beyond a beautiful splash screen. People want the ability to connect their devices without hassle, time after time.
Organizations have long used Aruba ClearPass to provide secure access for guest, corporate and personal devices, and through our ecosystem of partners, we continue to enhance that experience. For instance, integration with Sine enables you to easily provide Wi-Fi credentials to guests when they check in at your offices. Guests simply check in on a mobile device or web browser when they arrive in your lobby, and Wi-Fi logon details are sent via text message and email. Different rules can be set for different types of guests, such as visitor, contractor or courier. Behind the scenes, ClearPass authenticates the request and generates the Wi-Fi credentials.
Once Connected, Stay Connected
The initial interaction is just the start. People want to use their applications and make phone calls without issue. Aruba has put a lot of innovation behind delivering a great experience once people are connected.
From the pioneering Adaptive Radio Management (ARM) to Client Match and more recently AirMatch, Aruba has been developing software that ensures the user connection is always optimized. AirMatch is an illustration of just how sophisticated the software has become where a holistic view over a long period of time is now taken before making changes to the RF environment. It is no longer isolated point changes. These technologies are fundamental to a trouble-free "Post Connection Experience."
More recently, we have been focusing on providing insights into what the user experience looks like from the user's perspective or the "Time to Resolve Problem Experience." Access to these insights is a foundational element of the Aruba Mobile First Network Architecture.
Aruba Clarity enables administrators to monitor the key components of the user connection such as association, authentication, DNS and DHCP times for individual users and the overall network and provides up-to-the-minute insights into user connectivity that can impact the user experience.
For example, there was an instance where a customer started using Clarity after deploying Aruba and noticed their DHCP times were around four seconds. Users were not significantly impacted; it was just that their initial connection was slow. With this data, the network manager checked the DHCP server and noticed it was low on memory. With a simple upgrade to the RAM, the DHCP times went down to a few 100 milliseconds. This is a great example of active user experience monitoring and management.
A Consistently Excellent Experience
The bar for service excellence continues to rise, and emerging technology is making it easier than ever to deliver on people's expectations. We can consider the network not only to be the entity that allows devices to communicate with each other, but also one enormous sensor that we can now use with the help of artificial intelligence (AI). The application of AI to improve user experience relies on having access to a large volume of data and being able to compare data sets.
If I am teaching a machine how to recognize a dog, I will show the machine thousands and thousands of dog pictures so it can learn what a dog looks like in all kinds of situations. Applying this idea to the network involves looking at the characteristics of many different networks and "learning" what a well-performing network looks like as opposed to one that is not optimized. With these insights, I can now make recommendations based on all of the well-performing networks I have sampled, and because I know the characteristics of a well-performing network, I can predict the outcome of my recommended changes. This is essentially how Aruba NetInsight works.
NetInsight automatically baselines your network to identify performance and connectivity patterns across multiple locations, remote offices, and indoor and outdoor Wi-Fi. NetInsight benchmarks your network performance against similar networks—comparing, say, university campus networks—and gives you an detailed understanding of how your network performance stacks up. NetInsight also uses AI to detect hard-to-identify problems and makes pinpointed prescriptive recommendations for changes that will improve the user experience.
Aruba IntroSpect User and Entity Behavioral Analytics (UEBA) also taps into the growing power of the network as a sensor. In this case, AI is being applied to a security problem. IntroSpect uses machine learning to spot changes in user behavior that often indicate inside attacks that have evaded perimeter defenses. These are legitimate users or devices that have authorized access to the network but are exhibiting malicious intent.
Aruba continues to advance end-to-end visibility and control to improve the user experience. Our recent acquisition of Cape Networks expands our AI-powered analytics and assurance capabilities. Cape Networks provides a sensor-based service assurance solution that gives customers a simple, proactive and network-agnostic way to measure and monitor SaaS, application and network services. IT can get ahead of service quality issues before they occur as well as resolve issues faster.