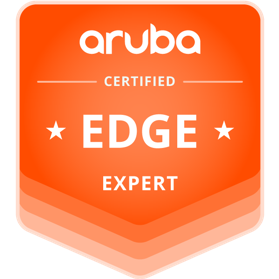 Aruba recently announced a new premium technical certification called the Aruba Edge Certification. It has tracks for Associate, Professional and Expert certifications. The Edge certification uniquely represents Aruba certification holders who have mastered three of four technology domains at each level. The Aruba Certified Edge Expert certification replaces the Aruba Mobile First Expert (AMFX) and everyone who previously earned the AMFX certification is grandfathered into the new Edge certification.
I would like to highlight one of our best Aruba experts who continually goes far and beyond in her technical accomplishments. Vinodini Karthikeyan is an Aruba Certified Instructor and an expert exam proctor. Vino is the only female Aruba Certified Edge Expert in the world!
For any Aruba expert, the expectation to recertify is to pass the expert written exam, which takes about an hour at PearsonVUE. Vino, however, went beyond the requirement and wanted to take the full eight-hour practical exam because she believed it would better serve her and her future expert candidates.
When all three expert exams were scheduled to take place in her home of Dubai, she decided to take on the ultimate challenge and take all three eight-hour practical exams in the same week. This is an incredibly difficult accomplishment!
To no surprise of her colleagues, Vino passed all three expert exams in one week. Not only did she accomplish this amazing feat, she did it in her home of Dubai, a place where women in the tech industry face criticism. Vino is an absolute inspiration, overcoming all obstacles with humility. Aruba is proud to have her on our team.
To learn more about the new Aruba Edge Certifications, check out the short animation below or visit our website. If you are interested in learning more about Vino, read our interview from Women's History Month.