As many of you will remember, Airheads discussion forums (formerly known as Airheads Online) was re-launched on the Lithium platform about a year ago…. and what a year it has been! We've enjoyed reconnecting with so many of you as well as welcoming new members on this new and interactive platform. Moreover, we are happy to hear how useful you are finding the content and how much you are enjoying connecting to and sharing technical knowledge with your peers in this way. Lastly, we are inspired by the awesome group of MVPs recently inducted.
Here is a fun infographic which represents how much the community has progressed over the last year. The Airheads Social community is built on your valuable contributions and these stats reflect that. We're impressed that a community page is viewed every 1.9 seconds and that the Community has had visitors from over 149 countries so far!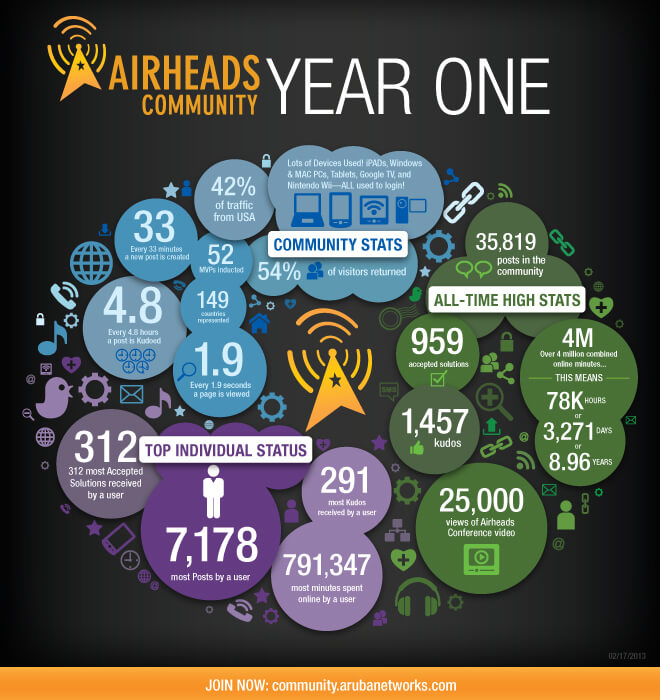 Click on the image to see a high resolution version.
As always, we value your feedback and suggestions. Please use the comment section below to let us know how we can make your Community experience even better; or just tell us about your favorite moments in the Community! (We are very curious as to which one of you use the Nintendo Wii to access Airheads. Perhaps we will see a few Wii Us in the web analytics in 2013? :smileyhappy: )
It is rewarding to see the community grow and gain traction. Looking forward to more great conversation in 2013!
Thank you for your continued participation,
Anton Chiang & the Airheads Community Management Team