For the 13th consecutive year,[1] Gartner has positioned Aruba, a Hewlett Packard Enterprise company, as a leader in the Magic Quadrant for the Wired and Wireless LAN Access Infrastructure. And for the second year running, Aruba is positioned foremost for completeness of vision.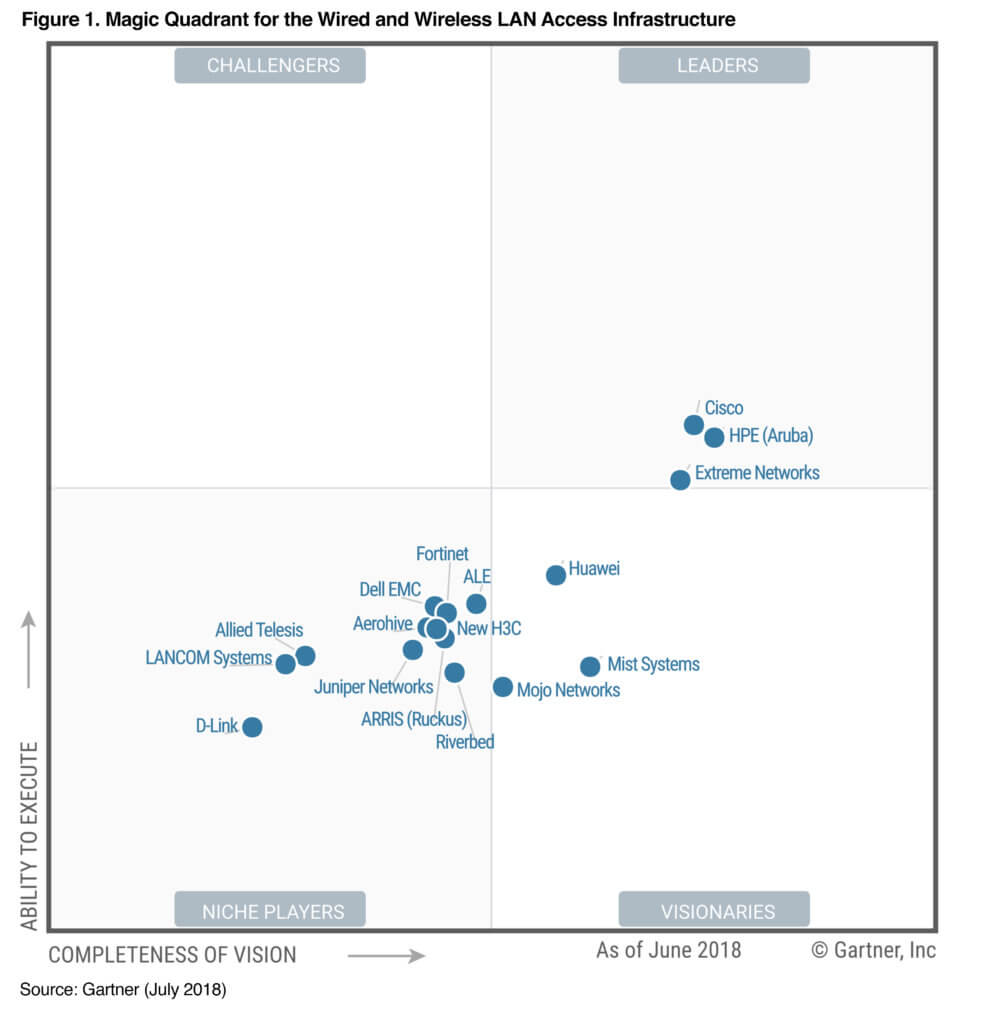 We believe Aruba's consistent placement in the leader's quadrant is a testament to our compelling vision and steadfast execution. But more importantly, it's a reflection of Aruba's core value. It's our Customer First, Customer Last philosophy that is at the heart of everything we do and it drives our innovation agenda. We are committed to our customers' success and to help you accelerate the digital transformation to evolve from being purveyors of goods and services to companies that deliver amazing experiences to your users and customers. This is how our customers drive competitive advantage, improve customer loyalty, and increase employee engagement and retention.
But Aruba's quest is not just about creating extraordinary digital experiences, it's about making those experiences smarter. We are all employees and we are all consumers. As consumers, we have developed high expectations regarding experiences, whether that be a fan experience, a travel experience or a shopping experience. Stadium venues deliver a more personalized experience to fans with automatic notifications about seat upgrades and exclusive video feeds and instant replays and allow fans to digitally place and receive concession orders without ever leaving their seats. Retailers are beginning to employ staffers with tablets to recall shoppers' previous online purchases and taste preferences to make personalized recommendations and guide them to the merchandise. And as professionals, we are coming to expect the same type of personalized digital experiences at work.
What does the future of the digital workplace look like?
Imagine a world where the same personalized experiences you've designed in your home exist where you work. You walk into the office and the building knows who you are. You are able to automatically onboard any device to the network. Your seat and desk height is automatically set to your personal preference and to be ergonomically correct in order to prevent repetitive stress. The lighting and temperature of the workspace adjust to your liking regardless of which space you might be occupying on any given day. You can quickly find an open conference room from your mobile phone, book it on the fly, and be guided to your conference room location. We call this the Smart Digital Workplace, and it's the type of experience that Aruba is helping to deliver.
But it's not just about users and your customers, it's about IT.
While Aruba's mission is to enable you to create memorable experiences for your employees and customers, we are equally fixated on simplifying life for IT by taking the complexity out of network operations in today's increasingly unpredictable mobile, IoT, and cloud environments where cybersecurity incidents have reached an all-time high. A world, quite frankly, that legacy networks were not designed to address.
Enter the Aruba Mobile First Architecture.
That's why Aruba created the Mobile First Architecture: to securely connect mobile devices, and now IoT. It's purpose-built for the digital era and enables you to rapidly innovate and transform your networks so that you can deliver amazing experiences and simplify IT. It provides a secure, intelligent, non-stop networking experience on a single, open, software-defined architecture that extends from campus to branch environments for a consistent IT experience across locations. This architecture is differentiated by the following characteristics:
Secure — Security is at the core of our solutions. Our unique, open software-defined approach to policy abstracts segmentation from the underlying infrastructure dramatically simplifying the network. Our recent investments in artificial intelligence (AI) and machine learning (ML) allow us to detect behavior anomalies and take action to mitigate risk. To complement our solutions, we've also built an extensive ecosystem of 100+ trusted security partners.

Intelligent — AI and ML are core capabilities across our portfolio and we've applied them to solve problems in security, network automation, location and context. Our architecture is smart because we treat every device and connection as a sensor and we employ hundreds of algorithms to make sense of the data. Leveraging these insights, we are able to automate actions and inform applications.
Mobile First — Our network approach is optimized for today's world where the majority of users, devices, and IoT are connected via Wi-Fi. We deliver secure, non-stop wireless experiences and allow IT to right-size the network. We believe the network needs to be simplified and that there should be fewer network devices and wired ports. No wired phones, no docking stations, everything is wireless.
Open — Today most networks are heterogeneous so network architectures must be open to allow for multivendor interoperability. But networks must also employ an API-first approach. Aruba's rich APIs make integration with your existing toolchains and solutions easier and allows you to build an IT environment on your terms, as opposed to the vendor's. We have also partnered with the industry's leading technology providers to build a best-of-breed ecosystem.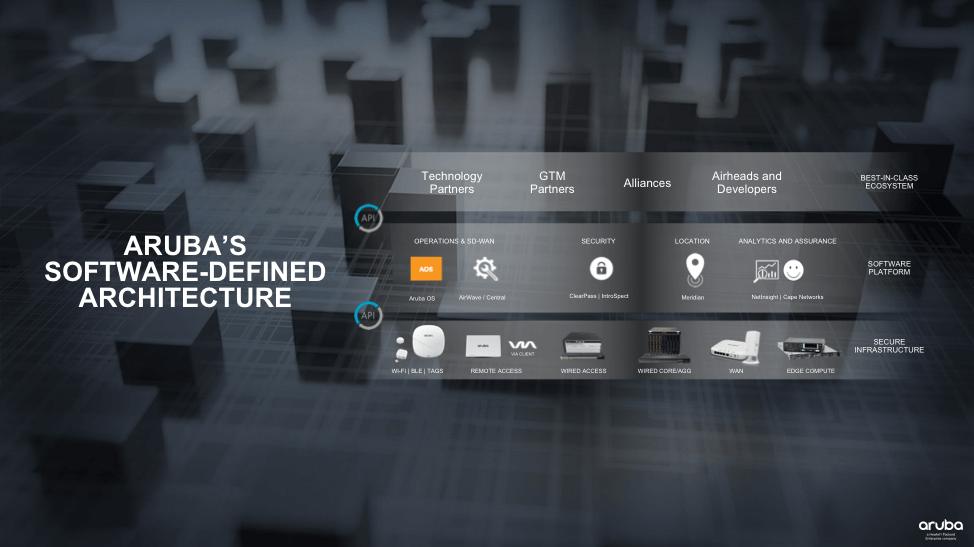 We firmly believe that our Customer First, Customer Last philosophy has allowed us to create a vision and strategy that drive our customers' success and has enabled us to consistently be a leader in the market. Our conversations with customers and partners continually validate the importance of having a secure, intelligent, mobile first and open network to enable business innovation, and deliver amazing, unforgettable experiences, while simplifying the lives of IT. We feel that Gartner's placement of HPE (Aruba) in the Magic Quadrant further reinforces that we're on the right track. We are honored by the recognition.
---
[1] Aruba's 13 years of placement includes HPE (Aruba) in the Magic Quadrant for the Wired & Wireless LAN Access Infrastructure from 2015-2018 (4 years), Aruba Networks in the same Magic Quadrant from 2012-2014 (3 years) and in the Magic Quadrant for Wireless LAN Access Infrastructure from 2006-2011 (6 years).
[2] Gartner Magic Quadrant for the Wired and Wireless LAN Access Infrastructure, Bill Menezes, Christian Canales, Tim Zimmerman, Mike Toussaint, 11 July 2018. This graphic was published by Gartner, Inc. as part of a larger research document and should be evaluated in the context of the entire document. The Gartner document is available upon request from HPE (Aruba). Gartner does not endorse any vendor, product or service depicted in its research publications, and does not advise technology users to select only those vendors with the highest ratings or other designation. Gartner research publications consist of the opinions of Gartner's research organization and should not be construed as statements of fact. Gartner disclaims all warranties, expressed or implied, with respect to this research, including any warranties of merchantability or fitness for a particular purpose.