We believe everyone wants to be a Leader in Gartner's Magic Quadrant. Being there tells the world you have both completeness of vision and ability to execute. So we're delighted to find ourselves positioned as a Leader and the vendor positioned furthest for "Completeness of Vision" in Gartner's Magic Quadrant for Wired and Wireless LAN Access Infrastructure (October 2017).
If you're not familiar with Gartner's Magic Quadrant, it works this way: the horizontal axis represents the completeness of vision and the vertical axis is the ability to execute.  There are four quadrants shown in a Magic Quadrant graphic: Leaders, Visionaries, Niche Players and Challengers.
In this particular Magic Quadrant (as you can see in the chart nearby) HPE Aruba is one of two vendors positioned in the leader's quadrant, from a total of 16 vendors. HPE Aruba is positioned furthest overall for completeness of vision.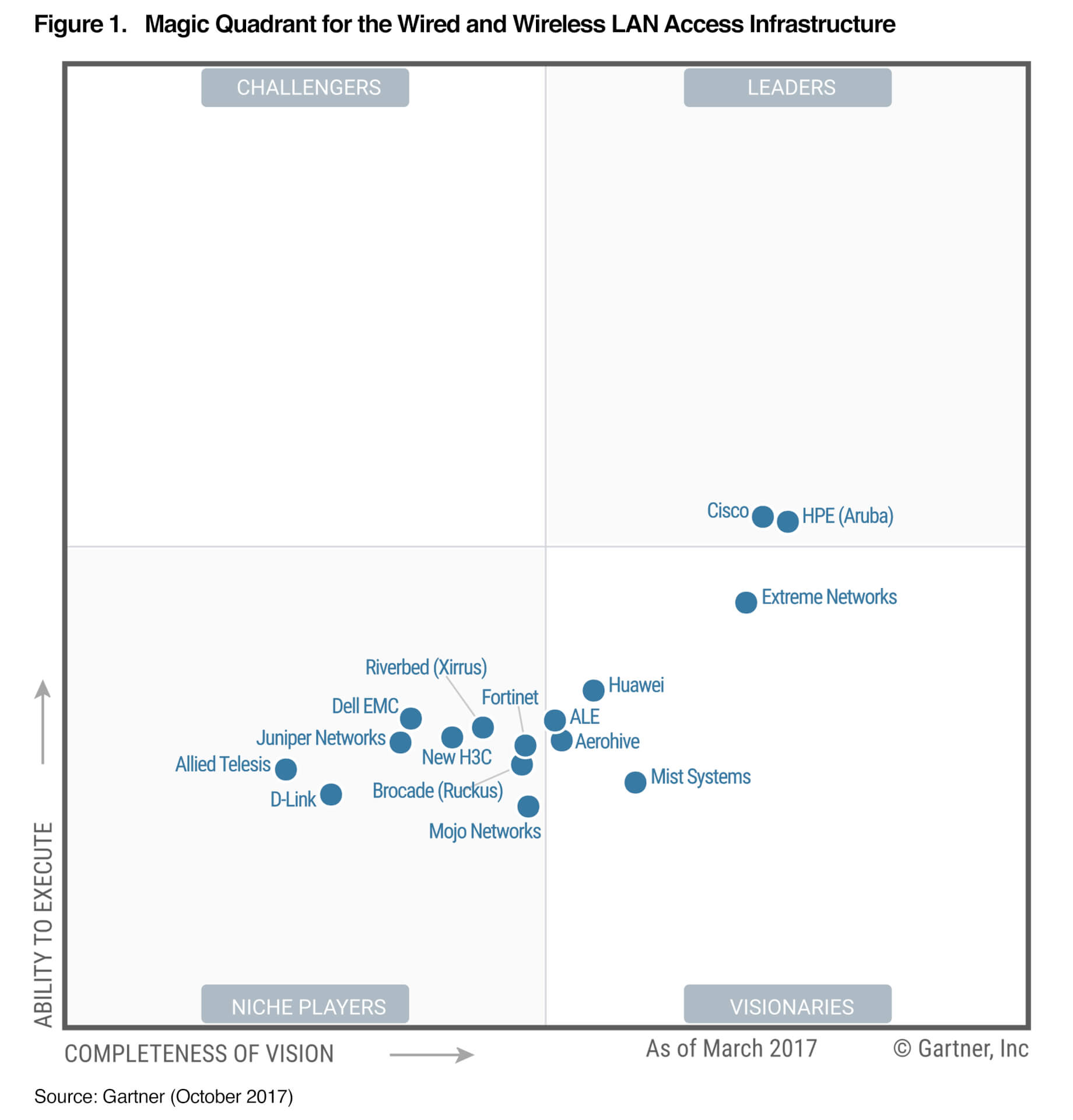 We received the highest scores in six out of six of the Use Cases* by Gartner in the Critical Capabilities for Wired and Wireless LAN Access Infrastructure (2017) report. Critical Capabilities research is the companion to the Magic Quadrant. For 2017, it evaluates vendors across six use cases designed to reflect the primary evaluation criteria Gartner recommends for use by I&O leaders responsible for planning, procuring, and managing enterprise wired and wireless access networks.
Although we are happy to have earned Magic Quadrant recognition, we didn't achieve it alone; it required our customers to succeed in powering their businesses with our technology. We believe our company motto of "customer first, customer last" has helped drive the success of our customers and enabled them to share their great experiences with Aruba in interviews with Gartner.
Focusing on the needs of our customers led us to create our Mobile First Architecture (MFA),
the structure on which everything is built. MFA puts the mobile user at the center of the network. This is very different from legacy networks, which were built in an era when the data center was the hub of the network, which extended to desktops in hard-wired fashion. For those legacy networks, Wi-Fi is an add-on, and mobile users are the exception, not the rule.
The design philosophy behind MFA is based on four tenets:
Born in the mobile-cloud-IoT era -- We understand the mobile workforce, Wi-Fi, cloud-based services, and now, IoT, because we've grown up with them since our founding in 2002.
Software-defined and API-first -- We understand administrators need modern, flexible programming tools like the Python scripts and REST APIs that are part of ArubaOS-CX to enable the sophisticated functions required by their networks. Only with automation can the network scale to support the explosion of mobile and IoT devices without requiring significant boosting of IT budgets to manually operate the network.
Open, multivendor -- We understand that a corporate network is an ecosystem of many technologies. Our solution portfolio is programmable and interoperable, where a customer can manage, connect and secure a heterogeneous network.
Security-driven -- We understand that security measures must be applied to mobile users and their devices, Wi-Fi networks, cloud services, and IoT devices that come in a host of different varieties.
It's important to remember that MFA is not static, but is designed to incorporate innovation. For example, we have harnessed the latest advances in machine learning to optimize performance and increase security. NetInsight helps improve network performance and the quality of the user experience. Through continuous monitoring, analysis, and benchmarking, machine learning algorithms make recommendations for optimizing application performance across the network.  IntroSpect is User and Entity Behavior (UEBA) technology that studies the network and applies machine learning algorithms to spot anomalies that might indicate network breaches originating from individual users or IoT devices.
Most significantly, MFA is an enabler for the Intelligent Edge, a series of innovations that are of critical importance to mobile, cloud, and IoT networks. The Intelligent Edge converges contextual data from both digital and physical worlds and turns that data into insights that lead to both better user experience and operational efficiencies.
The Intelligent Edge delivers:
Better employee experience with high throughput and security.
Better customer experience through a highly functional application layer.
Better network operator productivity through machine learning.
As I said, we did not set out with the primary goal of becoming a leader in the Magic Quadrant, but we were positioned in the leader's quadrant for our completeness of vision and ability to execute. Keeping in mind the mantra of customer first, customer last, our goal is always to help our customers succeed. And we believe that based on Gartner's evaluation, it's apparent that we are helping them succeed very well indeed.
----------
* Unified Wired and WLAN Access, Performance Stringent Applications, Multivendor Networking Environment, Remote Branch Office With Corporate HQ, Wired-Only Refresh/New Build, WLAN-Only Refresh/New Build
Gartner Critical Capabilities for Wired and Wireless LAN Access Infrastructure, Bill Menezes, Christian Canales, Tim Zimmerman, 3 November 2017.
Gartner Magic Quadrant for the Wired and Wireless LAN Access Infrastructure,
Tim Zimmerman, Christian Canales, Bill Menezes, 17 October 2017.
This graphic was published by Gartner, Inc. as part of a larger research document and should be evaluated in the context of the entire document. The Gartner document is available upon request from HPE (Aruba).
Gartner does not endorse any vendor, product or service depicted in its research publications, and does not advise technology users to select only those vendors with the highest ratings or other designation. Gartner research publications consist of the opinions of Gartner's research organization and should not be construed as statements of fact. Gartner disclaims all warranties, expressed or implied, with respect to this research, including any warranties of merchantability or fitness for a particular purpose.