Coffee shops have become the new working spaces, all for the price of a chai latte. Hotels are the new home-away-from home, with cozy comforters and streaming media from guests' tablets. Retail shops are destinations where people can play and immersive experiences. Healthcare providers are focused on new ways to keep patients safe, comfortable and satisfied, above and beyond delivering excellent care.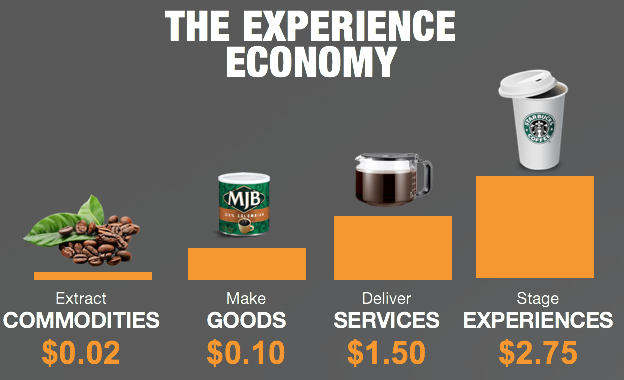 In the experience economy, it's not just about creating a great product. It's about creating an amazing personalized experience around that product beyond the initial product sale…that not only drives sales but also boosts customer loyalty.
At Aruba, we believe that digital transformation and the move to an experience economy are creating a tremendous opportunity for partners to help their customers generate more business value from their technology investments. And the "edge" – the stores, schools, hospitals, hotels and offices -- is where this opportunity resides.
At The Channel Company's recent Best of Breed Conference, Keerti Melkote spoke with CRN's Bob Faletraabout this growing opportunity at the edge. During his presentation, Keerti discussed how, as businesses advance their digital initiatives, partners have a unique opportunity to integrate the right combination of services, software and hardware to deliver a strategic solution that will drive their customers' businesses forward.
Five Skills Partners Need to Thrive in the Experience Economy
To help businesses create amazing experiences for their customers, partners need to develop new skills and partnerships or strengthen the ones they already have.
Cloud and managed services. It would be hard to find a business today that doesn't use cloud, whether that's a software-as-a-service or managed services model. But at the same time, many businesses will want to retain strong control over their critical applications, and private data centers won't go away anytime soon. That's why we at Aruba believe the hybrid IT operating model is so powerful, because customers get the agility they seek without giving up control. In addition to offering cloud-managed networking or cloud services, partners can provide strategic guidance around which applications and services to shift to the cloud and what to keep on-prem, and then integrate a seamless solution for their customers.
Data analytics. Retailers, hotels, schools, hospitals and other businesses that want to create amazing experiences need to collect and analyze data—a lot of it—and that creates a big opportunity for partners. Organizations are turning to systems integrators and channel partners with expertise in AI and data analytics for help with gathering and analyzing data so they can best understand customer patterns and behaviors to refine the experiences they are providing to their customers. The channel has come a long way from primarily selling hardware and post-sales support services!
Cybercriminals are targeting businesses of all sizes. Mobile, cloud and IoT introduce new security challenges and vulnerabilities. Securing the perimeter is no longer enough to stop the barrage of attacks. Customers need to secure their networks from the inside, and not just know who is on the network and what they are accessing, but also to understand if there is an anomaly associated with a behavior of an individual. In the experience economy, a security breach can impact the core operations of the business, not just the productivity of an individual. Partners are beefing up their cybersecurity skills so they can help customers find and stop threats faster. Managed security services are an enormous opportunity for partners, as businesses look to experts to run their day-to-day security operations.
Software development. Today, digital services and applications are the business. That makes it critical for partners to be part of the ground-level conversations where the digital opportunities are identified and business solutions and applications are imagined. In the experience economy, if you're not in the application development game, your business could be marginalized.IoT, for example, is a lot more than sensors. The IoT applications are highly customized to each initiative, be it a connected, hyperpersonalized hotel room, a smart device that monitors a patient's heart rate while at home, or digital signage that communicates with shoppers. Those applications need to be created and integrated with existing applications and systems in the physical world.
Professional services. We see a huge opportunity in advisory and consulting services. As technology becomes even more tightly woven into the customer and employee experience, businesses will increasingly look to their solution providers, systems integrators and consultants for strategic guidance. You can differentiate your business by taking the lead to orchestrate the multiple partnerships required to bring a total solution your customer and by creating dashboards to demonstrate the business value derived from that solution.
Partner to Win
In today's experience economy, an increasing amount of business value is being driven by software. Many partners will develop skills and practices in managed services, analytics, cybersecurity, application development and professional services, while for others, partnering with other solution providers makes sense. A firm focused on application development may partner with a cloud and managed security services partner to create a complete digital experience for a customer, for instance. Find the combination that makes the most sense for your business, but make sure your business can address these five areas of growth and opportunity.
Related Content
CRN - The BoB CEO Interview: Aruba's Keerti Melkote On Digital Transformation, Innovation Overseas And The Big Partner Opportunity At The Edge
CRN Video: HPE CEO Antonio Neri Talks Dell; Aruba's Keerti Melkote Discusses Opportunity Around IoT