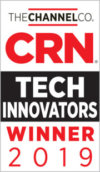 We are pleased to announce that Aruba ClearPass Device Insight has won the IoT Security category for the CRN 2019 Tech Innovator Awards. These annual awards showcase major advances in technologies such as cloud, software, security, infrastructure and devices, honoring groundbreaking vendors across 38 categories.
IoT Adoption and the Expanding Attack Surface
The adoption of IoT has fundamentally changed the breadth and complexity of devices connecting to today's networks, with many organizations struggling to understand the impact to the attack surface they are working to manage. With the growing ubiquity of Internet of Things (IoT) use cases, the adoption of IoT has outpaced critical security and compliance best practices in favor of improved operational efficiencies and business outcomes.
With this shift, IT and security teams are often unaware when, where and what types of new devices are being connected to the network. This lack of visibility prevents them from implementing key security and compliance safeguards. Best practices would require that each new device be onboarded and assigned a policy, but IT is often caught off guard.
Eliminating Blind Spots with ClearPass Device Insight
Aruba ClearPass Device Insight provides a full-spectrum of visibility across the network to eliminate undiscovered devices on the network and reduce risk. To do this, it examines key attributes such as device type, vendor, hardware version, and behavior including applications and resources accessed. In the end, this allows organizations to create more granular access policies, reduce security risks and meet key compliance requirements.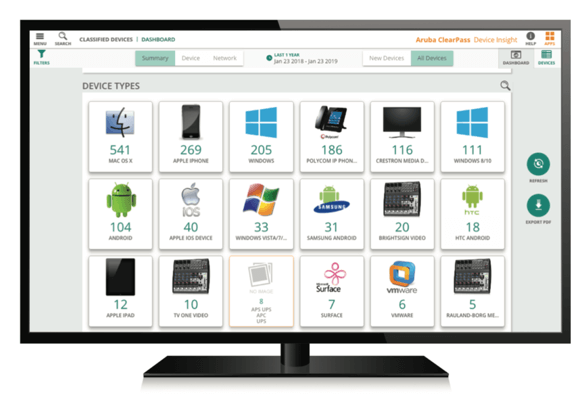 Key Benefits of ClearPass Device Insight
Provides full spectrum visibility of network connected devices to eliminate blind spots
Behavioral analysis goes beyond traditional profiling for precise identification
Utilizes AI to identify unknown devices and speed time-to-identification
Seamlessly integrates with ClearPass Policy Manager for real-time enforcement and accelerated response
Cloud-based solution simplifies deployment and management
Learn More
In the era of IoT, managing the attack surface through a deep understanding of who and what is connecting to the network is critical. To learn more about why ClearPass Device Insight was chosen as the winner of the "IoT Security" category in CRN's 2019 Tech Innovator Awards, check out the complete ClearPass family of solutions.
Solution Overview: Understanding the Need for Advanced Device Visibility