With over 200 million citizens and $1.9 trillion GDP, Brazil has by far the largest economy and population in the Americas (excluding the United States). It has the 9th largest economy in the world according to the United Nations and the World Bank. Brazil holds the record for most goals scored in the FIFA World Cup (227). It has hosted Aruba Atmosphere conferences going back to my very first visit to Rio de Janeiro back in 2010. And now Brazil has set a new world record – becoming the world leader in making additional spectrum available for Wi-Fi.
On February 28, the five counselors of ANATEL – the national telecommunications agency of Brazil – voted unanimously to open all 1200 MHz of the new 6 GHz band for unlicensed use. And became the first country on the planet to authorize both Low Power Indoor (LPI) and Very Low Power (VLP) devices across all 1200 MHz. The decision is effective immediately, which means that Wi-Fi 6E devices can begin applying for certification to go on the market later this year.
This was made possible by the also unanimous decision by the Federal Communications Commission to open the 6 GHz band in the U.S. last April, which fired the starting gun in the global race to unlock more spectrum desperately needed to relieve congestion for today's Wi-Fi networks and to deliver multi-gigabit speeds that will unleash incredible new applications and benefits. That decision also authorized LPI over all 1200 MHz, and established technical rules for outdoor operation in 850 MHz of that spectrum. However, VLP operation is still the subject of a very active rulemaking process and outdoor devices still have a number of important procedural and technical hurdles to clear before they can come to market in 6 GHz.
In the Americas, Chile and Guatemala have each opened up 1200 MHz for LPI, but have not yet moved on any other class of Wi-Fi 6E device. Next month, Europe will finalize opening 500 MHz each for LPI and VLP (but no outdoor operation). And in a split decision, South Korea permitted all 1200 MHz for LPI but only 500 MHz for VLP devices.
So Brazil occupies a unique position – delivering a staggering 200% increase in the amount of mid-band spectrum available for Wi-Fi (from 580 MHz to 1780 MHz).
And Brazil now leads the world in doing this for both major device classes that are ready to ship now. This includes seven 160 MHz wide channels that are capable of delivering 10 Gbps today with Wi-Fi 6 technology – a number that will double with Wi-Fi 7.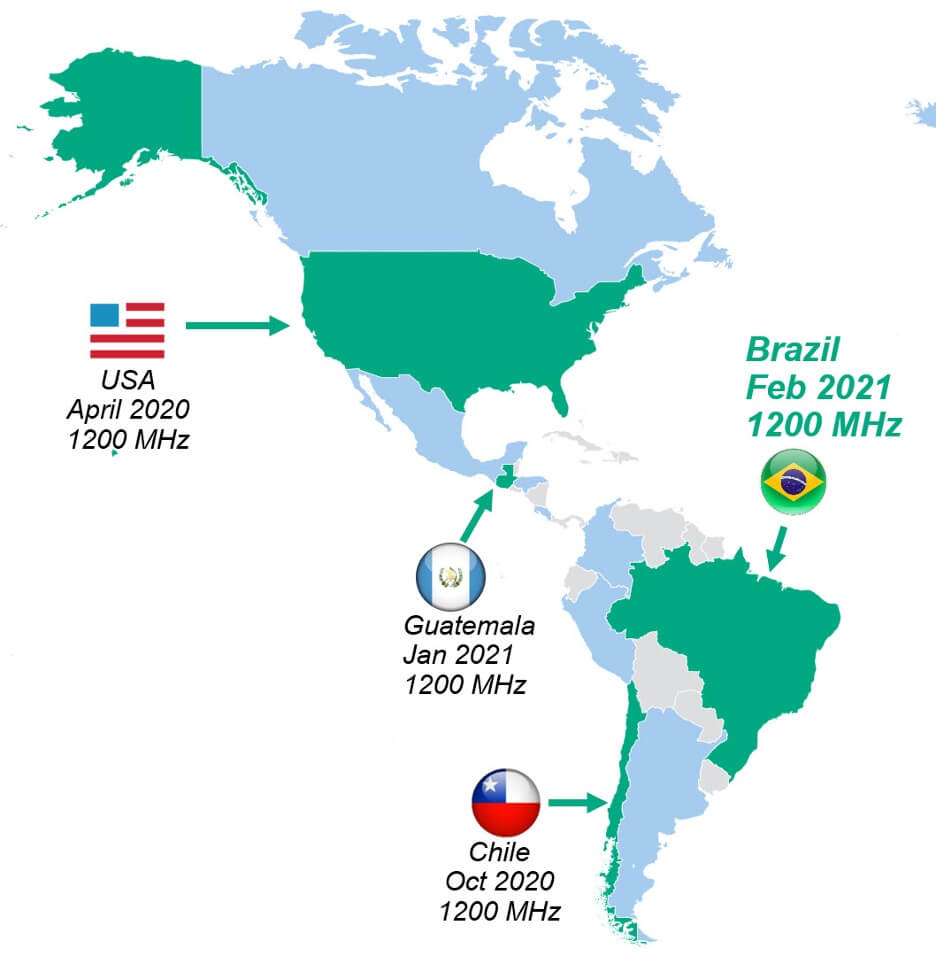 The map shows the current state of play for Wi-Fi 6E in the Americas. Countries in green have opened the 6 GHz band, while countries in blue have open consultations or rulemakings under way right now. By this coming holiday season, it is possible that nearly one billion people in the Americas will have access to Wi-Fi 6E products.
Leadership matters. Vision matters. With this decision, Anatel has declared the vital national interest of Brazil in expanding Wi-Fi access for its citizens, businesses, government agencies and other users. Wi-Fi has recently been estimated to generate $125 billion in economic value for Brazil in 2025 – and $3.5 trillion of economic value worldwide. Wi-Fi powers competition in communications services, which reduces broadband access prices that in turn power the digital revolution in business and bridging the digital divide. Wi-Fi is a vital economic input – similar to energy, steel, concrete or labor – that underpins product manufacturing, distribution, purchasing and transportation in countries worldwide.
HPE is a longtime employer in Brazil, operating in the country since 1967. We were an active participant in the rulemaking that led to this decision, along with a coalition of other well-known technology companies. We are proud to call Brazil home, and look forward to delivering Wi-Fi 6E products in the near future.