I'm excited to share that for 14 years running1, Gartner has again positioned HPE (Aruba), a Hewlett Packard Enterprise company, as a Leader in the Magic Quadrant for the Wired and Wireless LAN Access Infrastructure. We believe you don't get to be a leader without the backing and support of the customers who implement the technology. Our Leader placement serves as a validation of Aruba's mobile-first, cloud-native, AI-driven vision and our ability to deliver highly valued wired and wireless capabilities to the market.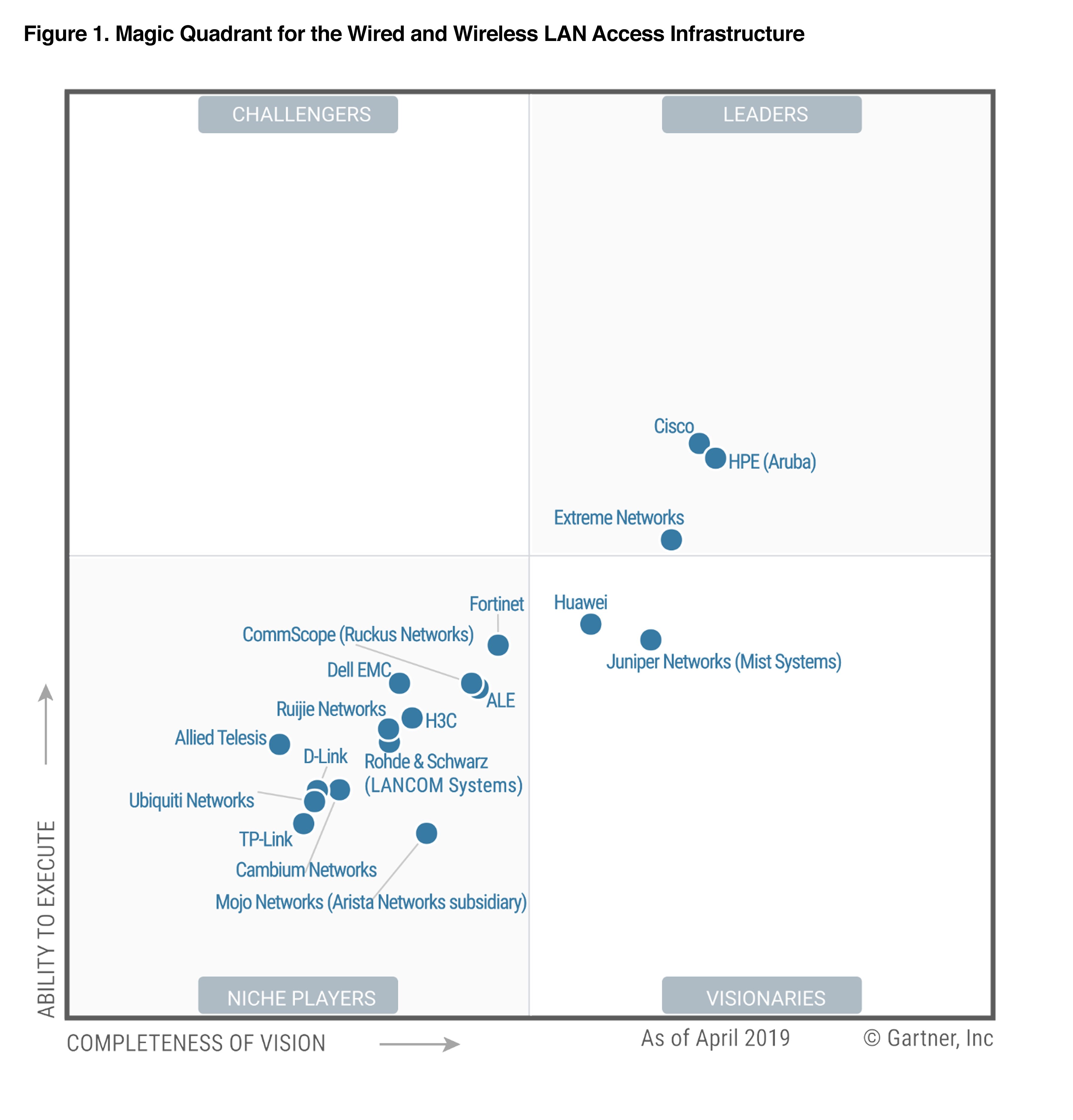 In addition, for the second straight year, HPE (Aruba) received the highest score in five out of the six use cases in Gartner's 2019 Critical Capabilities for Wired and Wireless LAN Access Infrastructure report. This research is the companion report to the Magic Quadrant but focuses purely on solution capabilities and reflects the primary evaluation criteria Gartner recommends for use by IT leaders responsible for enterprise networks. The results are further validation that HPE (Aruba) continues to accelerate innovation and execution as the market evolves.
We believe Aruba's architecture continues to be well-received by enterprises and a big part of that is our approach to network segmentation. For enterprises with complex management and security needs, capabilities like Dynamic Segmentation were specifically called out as a segmentation architecture that can be deployed in multi-vendor environments – especially useful for organizations migrating from legacy vendor solutions because it allows them to protect their existing investment.
Dynamic Segmentation utilizes user role, device, application, and location insights from Aruba's Policy Enforcement Firewall (PEF) to segment and isolate wired and wireless traffic based on centralized policies managed by ClearPass Policy Manager.
Commitment to Improving Customer Outcomes
Our core strategy is to provide solutions that deliver world-class experiences for IT operators and their users. The following capabilities are a testament to that strategy:
Security and Compliance – Security is at the heart of the Aruba solution and is utilized in a number of key use cases to provide IT with advanced visibility and control. Using a unique, software-defined approach to policy, Aruba's Dynamic Segmentation capability dramatically simplifies network operations by abstracting segmentation from the underlying infrastructure. A complement to Dynamic Segmentation, Aruba's new ClearPass Device Insight (CDI) is purpose-built to address the challenges associated with securing IoT devices that don't have the ability to authenticate. It leverages machine learning and crowdsourcing to automate the discovery and fingerprinting of all IoT devices on any wired or Wi-Fi network – regardless of the vendor. ClearPass Device Insight's cloud delivery platform leverages shared community learnings to identify newly-introduced devices and automates authentication and policy enforcement down to the device and user level. If any device exhibits abnormal behavior, ClearPass can automatically quarantine or remove it from the network mitigating the security risk. Learn more about CDI here.
Automation – From provisioning to troubleshooting to remediation, Aruba has worked closely with customers to identify common challenges in an effort to simplify the lives of IT operators. By introducing automation into the network life cycle, IT can take advantage of closed-loop monitoring, troubleshooting, and remediation to optimize the network experience and accelerate problem-solving. AOS-CX is a marquee example of how this can be delivered to enterprise networks. Learn more in this blog by Tom Black, and dive deeper into switching innovations such as NetEdit and the Network Analytics Engine (NAE).
Artificial Intelligence- – In order to respond quickly to changing business needs, IT must continuously optimize the allocation of its resources to focus on strategic corporate priorities. Aruba's comprehensive and diverse data sample size, combined with decades of domain and data science expertise, is producing beneficial security and network configuration outcomes that free IT operators to focus on strategic priorities that grow the business. Every device and connection is treated as a network sensor, proactively gathering and analyzing data to detect potential network issues and recommend corrective actions before they impact end-users. Learn more from HPE Discover 2019.
Aruba's Edge Architecture
As our customers embark on a journey through today's mobile, IoT, and cloud era, Aruba's edge architecture provides the intelligence, automation, and flexibility needed to achieve higher security, assurance, and agility. Extending across campus and branch environments, Aruba designed our solutions to be cloud-native, and ensure a consistent IT experience and seamless connectivity for end-users and IoT.
If you're looking for more information on Aruba's overall architecture, please visit our solutions webpage. You can also view the full Magic Quadrant and Critical Capabilities report here:
2019 Gartner Magic Quadrant for the Wired and Wireless LAN Access Infrastructure report.
2019 Gartner Critical Capabilities for Wired and Wireless LAN Infrastructure report
###
About the Magic Quadrant
Gartner does not endorse any vendor, product or service depicted in its research publications, and does not advise technology users to select only those vendors with the highest ratings. Gartner research publications consist of the opinions of Gartner's research organization and should not be construed as statements of fact. Gartner disclaims all warranties, expressed or implied, with respect to this research, including any warranties of merchantability or fitness for a particular purpose.
Gartner Magic Quadrant for the Wired and Wireless LAN Access Infrastructure, Bill Menezes, Tim Zimmerman, Christian Canales, Mike Toussaint, 24 September 2019
This graphic was published by Gartner, Inc. as part of a larger research document and should be evaluated in the context of the entire document.
###
1 Aruba's 14 years of placement includes HPE (Aruba) in the Magic Quadrant for the Wired & Wireless LAN Access Infrastructure from 2015-2019 (5 years), Aruba Networks in the same Magic Quadrant from 2012-2014 (3 years) and in the Magic Quadrant for Wireless LAN Access Infrastructure from 2006-2011 (6 years).