[Admin Edit: The event is now over. Thank you for joining us. Please leave your feedback and suggestions in the comment section below. Event content will be archived in the read only event discussion forum]
We are pleased to announced the first Airheads Expert Day on July 18 through19, 2013. An Airheads Expert Day is an online community event when Aruba TAC team members and other expert employees hang out in Airheads Social to answer any technical questions you may have related to event topics. The event will take place in a designated discussion forum, and it will last 24 hours to allow users from around the world to submit posts and engage in online discussions.
Event Time:
From: 5pm PDT on July 18, 2013 (Midnight GMT/UTC between July 18 and July 19)
To: 5pm PDT on July 19, 2013 (Midnight GMT/UTC between July 19 and July 20)
Event Forum URL:
http://community.arubanetworks.com/t5/Airheads-Expert-Day-July-18-19/bd-p/expertday
Expert Day Topics:
- ARM best practices
- Airwave and ClearPass system scaling 
- Captive Portal integration with ClearPass Guest
- Premier services
How the Expert Day event works:
During the Expert Day event, Aruba TAC team members and other expert employees will hang out in the designated event discussion forum to answer questions and engage in technical discussions related to the event topics. Since TAC and other community members may need to get additional information from you, please check "Email me when someone replies" when composing the message. You may also want to subscribe to the event discussion forum to be notified of new event activities.  Please note that you need to be registered and signed in to the community in order to post questions in the event forum.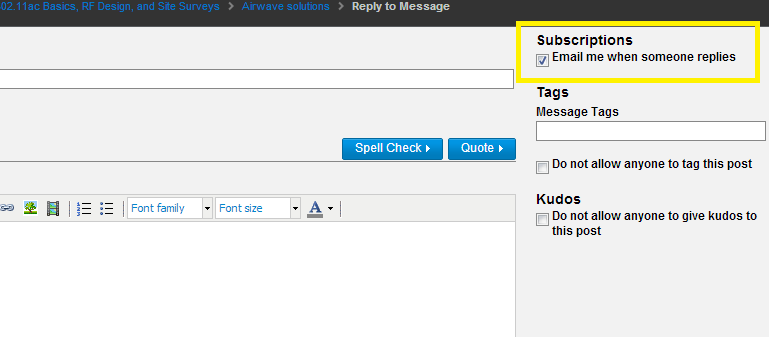 Check "Email me when someone replies"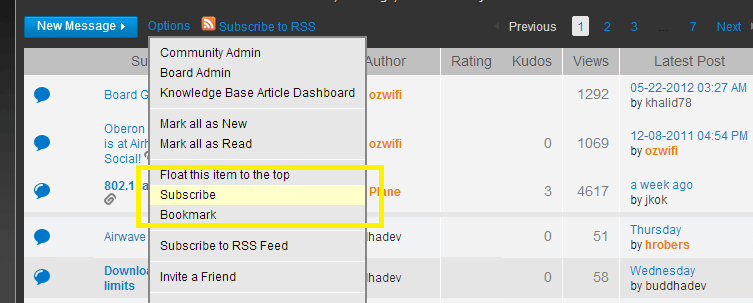 Click on the "Options" drop down and select "Subscribe"
Although our TAC team members will be logged into the community throughout the event, it may take them some time to research and compose replies to your questions. Generally speaking, we will strive to answer your post within two hours. If you have an urgent support question, please open a case with TAC directly using the "Open Case" button from the home page or via email or phone.  
If you are unable to join us, please feel free to send me your questions via PM and we will do our best to answer them during the event.
Let us know if you have any questions related to the event by leaving a comment below. We Look forward to seeing you in the community on July 18th and 19th! 
You can mark a reply to your topic as the accepted solution. Just look in the lower right corner of the post and click on "Accept as Solution".  For reference, see the following image.  Please note: you can only mark replies to your own topics as the accepted solution.

 When posting an issue on the community, please be sure to mark the post that resolved your issue as an "Accepted Solution"!
Tags: