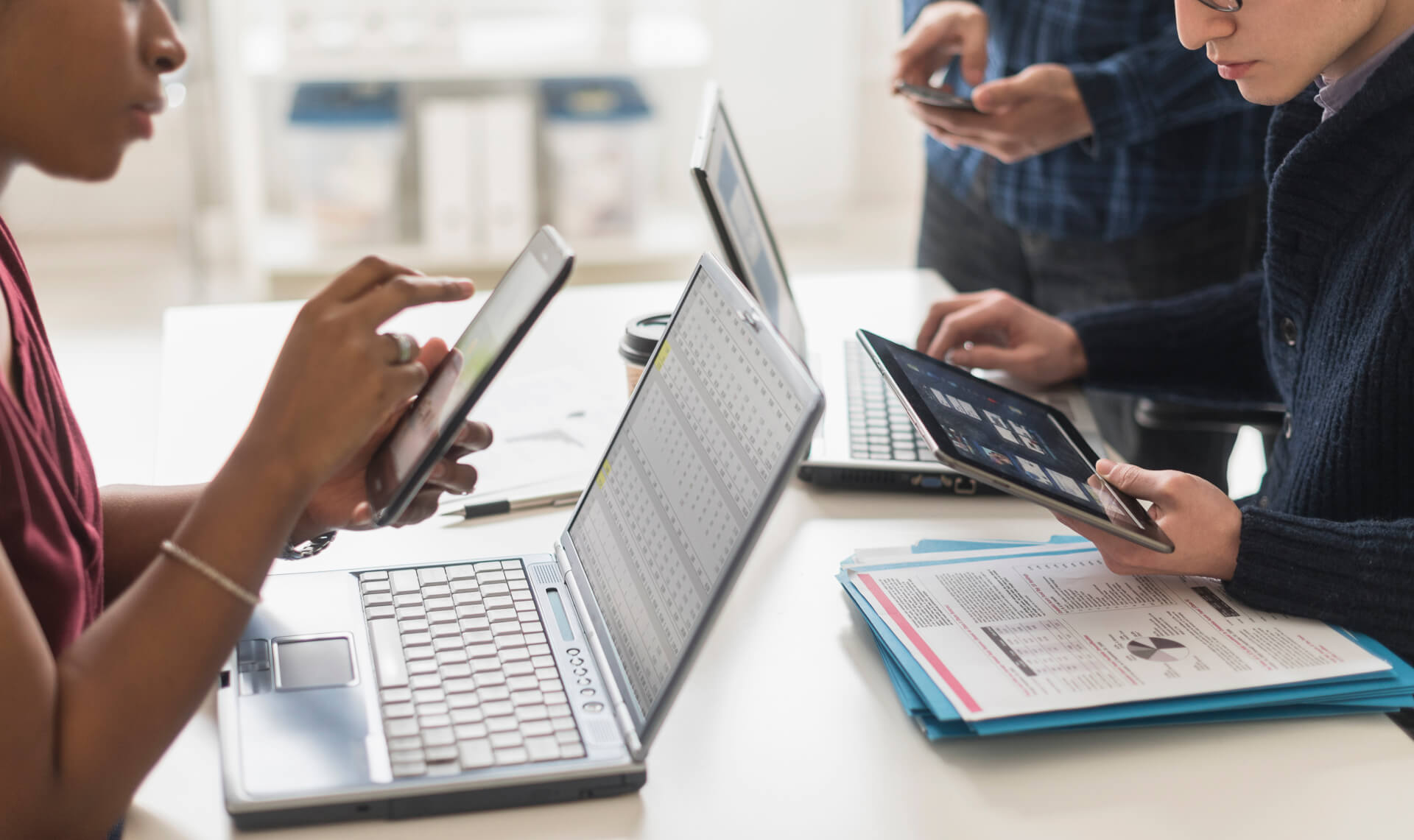 The 6 GHz frequency band creates a fascinating opportunity for wireless network architects who have long wanted to deploy multiple, overlapping Wi-Fi networks to serve different user communities or device classes that have distinct RF performance characteristics.  This has been attempted in the past in 5 GHz with less than satisfactory results due to the limited number of channels, but Wi-Fi 6E makes it very feasible to create sub-bands for different types of devices and use cases for organizations with that requirement.
I've just authored a new Wi-Fi 6E technical paper that offers some views on questions with which enterprise wireless architects will soon be confronted as they begin to deploy Wi-Fi 6E equipment.  For example – given all the new channels:
Is it best to continue current practices and deploy all channels in a single layer of coverage?
For some enterprises, is it time to start adding at least one additional layer of APs, and segregating the new channels into sub-bands to serve different device types?
In such an approach, what are the optimal channel bandwidths for each layer?
What should be the role of the 5 GHz and 2.4 GHz bands going forward in managed networks?
It's a potentially radical rethinking of how large managed WLANs can be dimensioned and deployed using the 6 GHz band once Wi-Fi 6E capable devices have gained critical mass.
SSID Assignment Will Change in Wi-Fi 6E
As an example of the issues addressed in the paper, consider how the traditional dual-band enterprise SSID layout could evolve in a tri-band 6E deployment. Table 1 shows the most deployed approach today, while table 2 illustrates a likely enterprise scenario with 6E.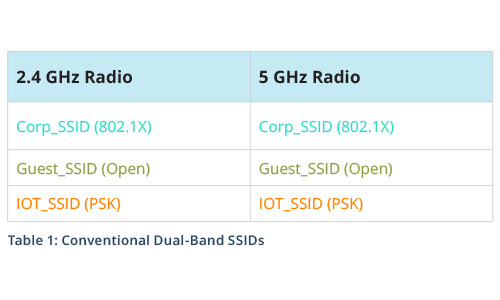 Using the 6 GHz band presents an opportunity for enterprise wireless architects to take a fresh look at their current wireless needs, rather than simply cutting and pasting their 5 GHz configurations into the new band. Table 2 illustrates the fascinating possibilities of this new band.
Given all that new capacity, consider these additional questions:
Should you limit 6 GHz to devices belonging to the enterprise or at least those BYOD devices that have been formally onboarded via a Network Access Control (NAC) solution like ClearPass Onboard?
As the organization invests in native 6E devices for specific business applications, will there be a desire to limit their operation exclusively to 6 GHz to ensure consistent performance?
Is putting guest traffic in 6 GHz really a good idea – at least until the organization has a better idea of the answers to the first two questions – when 5 GHz provides the widest compatibility for unknown equipment types?
With three bands available, is it finally feasible to clear 2.4 GHz for exclusive use by all your IoT PSK devices?
With the proposed approach in Table 2, typical CorpNet devices like tri-band capable laptops could be given their choice of 5- or 6 GHz depending on local conditions and driver preferences. Each band would have a single band-specific SSID, including a 6 GHz-only Corp SSID and guest access confined to 5 GHz. Many other permutations are possible.
New Partitioning Strategies for 6 GHz 
Most enterprises that deploy tri-band Wi-Fi 6E access points will simply replace existing infrastructure, adding a third radio and treating 6 GHz as a single new pool of capacity.  SSID allocation may evolve as described above, but otherwise this continues the longstanding practice in the enterprise of treating each band as a capacity block.  In terms of channels, that approach can be visualized as follows: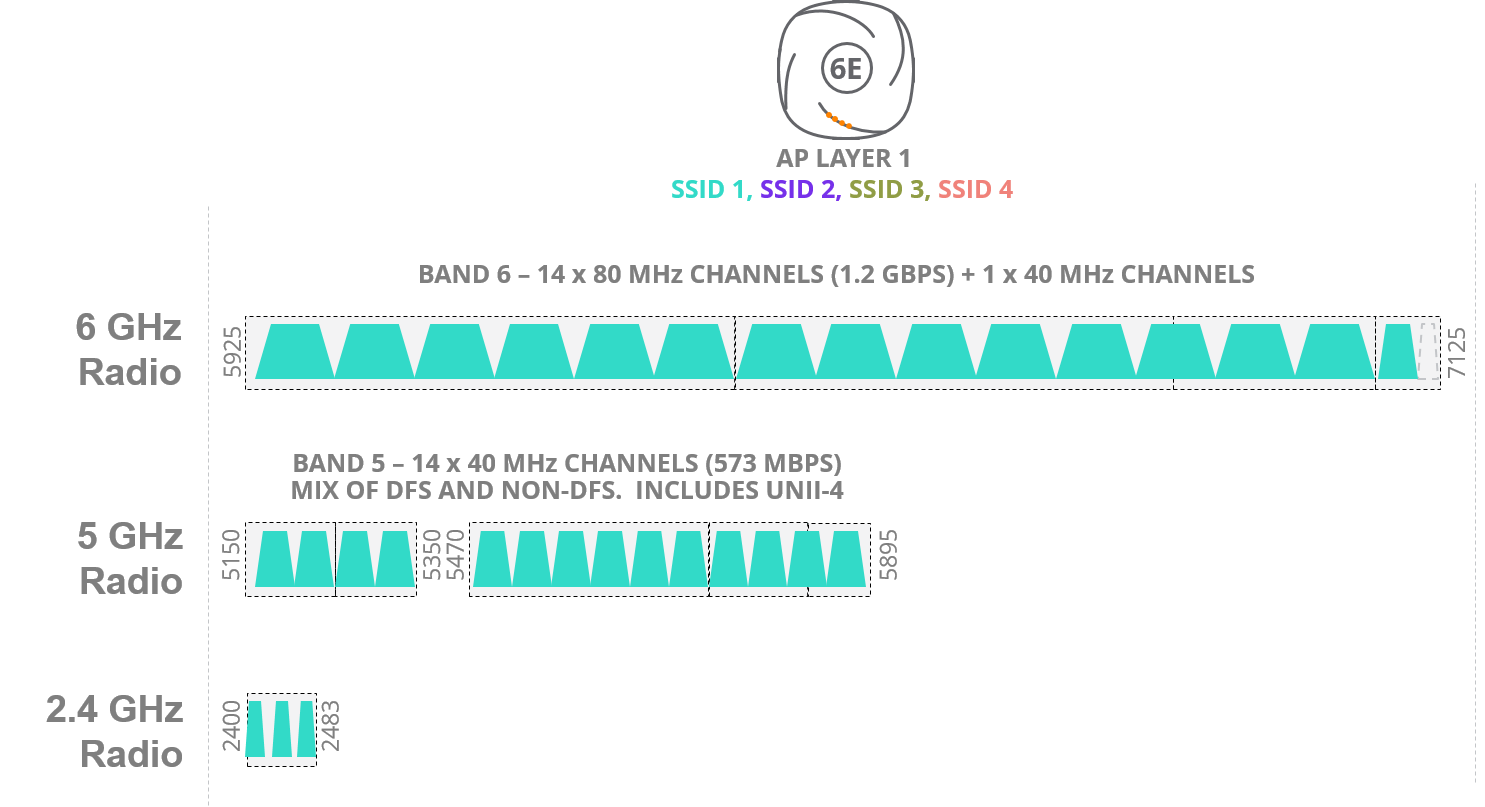 That approach will work for the vast majority of organizations deploying managed Wi-Fi 6E systems.  However, certain verticals such as healthcare and manufacturing have long desired the ability to "partition" unlicensed spectrum into discrete "layers" in order to frequency segregate different end user communities to provide more deterministic service levels.  Consider a hospital with multiple distinct classes of devices with widely diverging bandwidth, latency, and life-safety criticality requirements. There have been several attempts over the years to partition the 5 GHz band into two or three sub-bands (or "layers") to meet these different needs, which were not successful due to the limited spectrum available.
Enter Wi-Fi 6E.
How could this design philosophy be applied to the abundant greenfield spectrum in the 6 GHz band for organizations with these requirements?  The figure below shows one possible approach where the architect partitions 6 GHz into two discrete blocks of new capacity: Band 6A and Band 6B. Each sub-band uses a different channel bandwidth. Realizing this architecture requires the organization to deploy a new and separate layer of APs and ethernet cabling, but there are so many channels available in 6 GHz that this can be easily justified given the QoS requirements. In contrast, 5 GHz is retained as a single contiguous block of capacity called Band 5.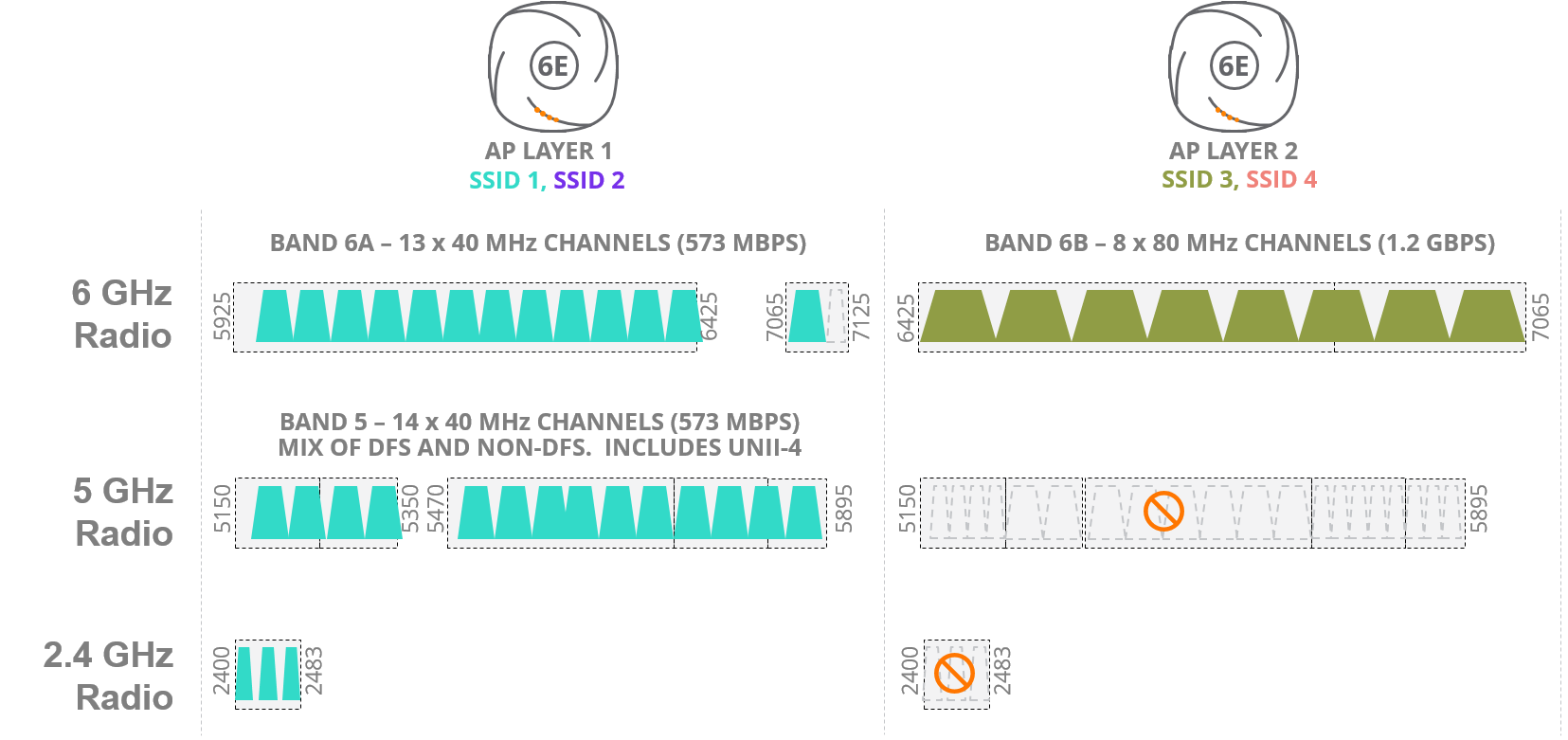 Once you start down this rabbit hole, the world starts to look very different, and even more possibilities open up.  To explore the possibilities, check out the new technical paper which looks extensively at varying partition schemes for different scenarios, how out-of-band AP discovery works in 6 GHz and how a 6 GHz-only SSID can be easily implemented to achieve the SSID configuration shown above.  To be clear, partition strategies are likely only applicable to specific types of organizations, but Aruba believes they will be very well received in those verticals. I welcome your thoughts and feedback on these exciting new possibilities.
With Wi-Fi 6E, Is It Time to Consider a Layered Approach?