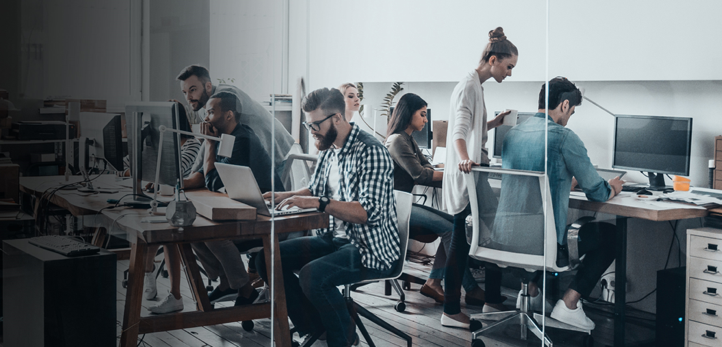 Current approaches to deploying and managing networks are outdated at best and dangerous at worst.
Today's digitally minded businesses are evolving quickly and require more from IT than ever before. But using disparate tools and systems to manage legacy networks lead to inefficient processes and increased performance and security risks.
Relying on traditional approaches to monitor and troubleshoot network health leaves IT with huge gaps in network visibility, fragmented data, and limited intelligence to resolve problems, prioritize fixes, and improve network designs.
It's time to find a better way. Consider these five facts as you determine how to improve your network operations strategy.
Fact #1: 70% of network configuration is done manually.
Enterprises that are expanding into new markets or adding locations need fast network rollouts to take advantage of new revenue opportunities. But high-touch deployments invite human error and hinder IT agility—increasing the likelihood of unanticipated issues and delays.
Solution:
Zero-touch or one-touch provisioning of switches and other network devices dramatically simplifies device installation, eliminates configuration errors, and potentially lowers costs by reducing the need to dispatch skilled technicians to every site.
Fact #2: 44% of IT operators say network changes lead to outage or performance issues several times a year.(1)
Short timelines and short-staffed IT make even standard network updates difficult—especially when they're pushed out device by device using CLI. Such changes increase the risk of operator error and downtime. Meanwhile, IT methods to ensure updates are successful tend to be based on best-effort spot checks.
Solution:
Turnkey configuration automation with built-in assurance that network changes comply with corporate policies and device dependencies will allow IT to push out validated changes across the entire network. This automation saves time, reduces risk, and ultimately improves network uptime.
Fact #3: Internet-connected devices on enterprise networks can be hacked in as little as 3 minutes.(2)
Initiatives like IoT and workforce mobility are introducing a deluge of new devices that IT must onboard and secure. Relying on VLANs, ACLs, and other static configurations doesn't scale. Unfortunately, many IoT devices lack proper security measures, making it easy for hackers to gain access to financial data or other sensitive network information.
Solution:
Networking teams need a micro-segmentation strategy that's easy to implement, enforce, and manage. Leveraging capabilities like dynamic segmentation—which uses automation to set and enforce user- and device-based policies—simplifies and bolsters network security. It ensures various user groups and IoT devices have proper privileges, restricting them from other parts of the network and limiting the blast radius of a potential attack.
Fact #4: 70% of IT's time is spent trying to identify and diagnose issues.(3)
One of the most common, time-consuming activities for IT operators is resolving network-impacting issues. Traditional approaches to troubleshooting and monitoring either involve a series of manual show commands and irregular network polling, or using multiple third-party tools with conflicting diagnostics. Both methods are too reactive, manual, and offer little correlation to actual root cause, resulting in longer service disruptions.
Solution:
Real-time, network-wide visibility allows operators to proactively detect and tackle issues before they impact end users and business operations. Network devices offering on-box analytics can instantly alert operators to potential problems. Monitoring network usage and behavior over time can also help operators identify trends, pre-empt future problems, and make smarter design decisions, ultimately reducing costs and improving user experiences.
Fact #5: Proprietary, hard-coded networks inhibit progress.
Aging networks based on closed system architectures inhibit the adoption of newer technologies and best-in-class third-party solutions that could improve IT service delivery. Such networks exacerbate what have been traditionally siloed IT domains, limiting collaboration and ensuring processes remain highly manual.
Solution:
Open, programmable frameworks with REST APIs allow networks to seamlessly work with third-party tools and systems. This level of programmability simplifies workflows that extend across multiple platforms and teams by capturing, exchanging, and acting on relevant information in real time.
Modernize network operations with intelligent automation and distributed analytics
Enterprises need smarter networks to take advantage of today's digital technologies. Automation, programmability, and analytics should be integral parts of the modernization strategy, providing IT leaders with the insights and agility to make the network ready for today, with the flexibility to prepare for whatever lies ahead.
Access these resources to learn more about enabling a next-gen operational experience.
Sources:
(1) Network World, "Top Reasons for Network Downtime," Nov. 18, 2016
(2) "Segmentation or Isolation: Implementing Best Practices for Connecting 'All' Devices," Tim Zimmerman, Gartner, Published 26 September, 2019, ID: G00388335
(3) "Gartner Identifies 5 Network Cost Optimization Opportunities," Press Release, June 2019